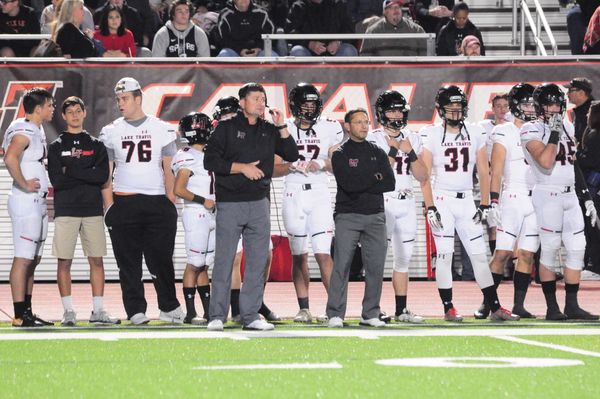 Game notes
Bi-district rematch
The Cavaliers and Mavericks faced each other last season to open the playoffs, and Lake Travis cruised to a 56-7 win. Lake Travis led 49-0 after three quarters. Many of the players who did the damage against the Mavericks have graduated, but Matthew Baldwin played the bulk of the second half for the Cavaliers and tossed a pair of touchdown passes. "They are better than the team we played last year and we will not take them lightly at all," Baldwin said this week. "We need to focus, play smart and continue to play the way we're playing right now."
Common foes
Comparing scores sometimes does little more than point out that games were played, but comparing performances against common opponents can offer at least a slight glimpse into a matchup. Lake Travis and Madison have Cibolo Steele in common. The Knights beat Madison 36-3 to open the season, and Lake Travis topped Steele 34-31 in the following week on Cameron Dicker's last-second field goal.
Playoff Qualifying foes
Lake Travis played seven regular season games against playoff-qualifying teams, posting a 5-2 mark with wins over Steele, Dallas Jesuit, Hendrickson, Hays and Vandegrift. Madison didn't fare as well when facing quality opposition, dropping all five games it played against playoff qualifiers. The Mavericks lost to Steele and Warren in non-district play and fell to Johnson, Reagan and MacArthur in District 26-6A play.
100 club
With a victory over Madison, Lake Travis coach Hank Carter will earn the 100th win in his head coaching tenure, all at the school. Since taking over as the Cavaliers' head coach in 2010, Carter's guided the school to a 99-12 mark, an 89.1 winning percentage. Of the 111 games he's coached, 32 have been in the playoffs, where he's won 28 of 32 contests (87.5 percent). Carter trails only Katy's Gary Joseph (185-17, 91.6) among active 11-man coaches in winning percentage. Conference 1A (formerly 6-man) Richland Springs coach Jerry Burkhart leads all coaches with a mark of 197-15, 92.9 percent.
Cavalier kryptonite?
Defensive coaches loathe facing teams with quarterbacks who double as dynamic runners. Few things are more demoralizing to a defense than to cover a pass play well and get close to sacking the quarterback, only to see him escape and turn a potentially negative play into a momentum-shifting big gain. Madison quarterback Dante Heaggans fits that bill, and Lake Travis' coaches have been stressing to the defense that they must pressure the quarterback without losing their containment and they must get him on the ground when given a chance. Running quarterbacks played key roles in both of Lake Travis' losses. Judson's Julon Williams rushed for 222 yards and three touchdowns and Westlake's Taylor Anderson burned the Cavaliers for 140 yards and a score. In their eight wins, the Cavaliers have allowed opposing quarterbacks only 130 total rushing yards. Heaggans has rushed for 1,321 yards on the season, nearly as many as the Cavaliers have gained on the ground as a team (1,353).
High-water marks
With 34 touchdown passes this season, Baldwin is just the sixth quarterback at Lake Travis to threw at least 30 touchdown passes in a season, joining a list that includes Garrett Gilbert, Charlie Brewer, Baker Mayfield, Michael Brewer and Todd Reesing….Baldwin's completed 71 percent of his passes in his two seasons, topping the career list though he's thrown 492 fewer passes than Charlie Brewer, who completed 70.5 percent of his 851 passes in three years….Garrett Wilson's 16 touchdown catches this season give him 30 for his career, good for fourth on the Cavaliers' career list, tied with Cade McCrary and Cade Brewer. The junior trails career leader Fred Robinson by just 14 touchdown grabs.