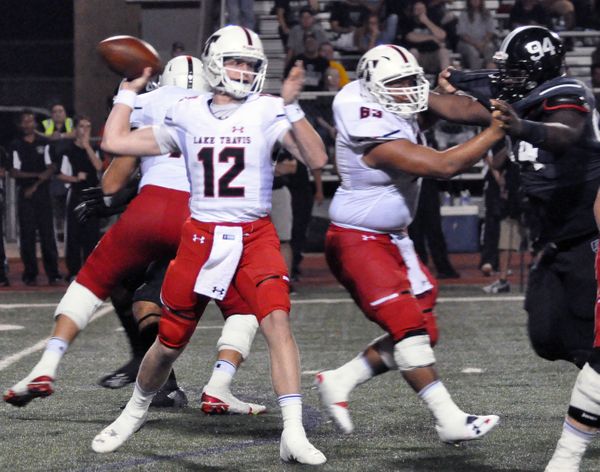 His one shining moment provides glimpse at Baldwin's preparation, potential
This summer Matthew Baldwin became the seventh consecutive Lake Travis quarterback to accept an offer to play NCAA FBS football once he graduates. Never mind he's yet to start a varsity game.
While Baldwin played extensively last year, passing for 673 yards and 10 touchdowns while completing 76.3 percent of his passes, nearly all of his action – 12 of his 13 appearances -- came in pressure-free situations.
"He played a lot last year but had only one real instance of meaningful, big-time play in the Steele game," recalled offensive coordinator Mike Wall, the coach who'll spend the most time with Baldwin.
No one will forget the three minutes and two overtime periods Baldwin played at Cibolo Steele. He entered the game when Charlie Brewer left with a concussion with three minutes left in the fourth quarter. Lake Travis trailed 49-46 and appeared on the way to a second-straight loss to open the season.
"I had never been in a varsity game," Baldwin recalled this spring. "I played JV before that and didn't play in the week before when we lost to Judson. That was my first varsity football and it was a pretty darn good team we were playing."
Steele went on to reach the 6A, Division II title game, falling to DeSoto, but 15 weeks earlier the Knights had Lake Travis on the ropes. Until Baldwin went to work.
"It wasn't like I didn't know what I was doing and I went in and just hoped that things would work out," he said. "Coach Wall prepares us all. I knew the offense as well as Charlie. I was prepared."
And it showed. He completed eight of 11 passes and converted a massive fourth and 12 with a 17-yard scramble to keep the game-tying drive alive. With time winding down he drove the Cavaliers into field goal range and killed the clock, allowing Cameron Dicker to force overtime with a 46-yard field goal. In overtime, Baldwin hit Cade Brewer for a 25-yard touchdown to force a second overtime and Lake Travis eventually secured a 59-56 win.
"Afterwards, it definitely felt good, that 'hey, I can do this' feeling," he said. "We played against one of the best safeties in the country and tore it up."
With help from Garrett Wilson, Baldwin tore it up in the familiar confines of 7on7 competition, leading the Cavaliers to a state title. The confidence and rapport with he developed with his receivers during the summer passing tournament has its benefit, but Wall is eager to see Baldwin continue his development now that pad are popping and lights are bright.
"He knows what he's doing," Wall said. "It's just a matter of getting out there and doing it. When he lets it loose, he's a force out there."
Under Wall's direction, Lake Travis' offensive calling card is the breakneck pace at which it plays. The biggest adjustment, he said, Baldwin must make in moving into the starter's role is to maintain that speed while making the right decisions.
"Coach Wall talks about playing with urgency, and that was something I struggled with last year," Baldwin admits. "It wasn't that I wasn't playing fast, but usually when I got in games we were up 60-10 and just trying to get out of there. This year, it's completely different. I need to be urgent and get to the line. That's a big weapon for us, our ability to play fast."
Wall said that urgency will help the Cavaliers keep moving, and let Baldwin's talents shine.
"He's going to do some great things this year," Wall said. "The thing is the experience and playing fast. He will make throws this year that we haven't seen because of his arm strength. He can really throw the ball as well as any QB I've ever coached. I think he's really going to have a great year and we're working on that every day."
Baldwin committed to Colorado State University over the summer, joining a fraternity that includes predecessor Charlie Brewer (Baylor), Dominic De Lira (Iowa State), Baker Mayfield (Texas Tech/Oklahoma), Michael Brewer (Texas Tech/Virginia Tech), Garrett Gilbert (Texas/SMU) and Todd Reesing (Kansas). He understands the expectations that come with being the starter at Lake Travis and is eager to start meeting those expectations.
"It's an honor to be the quarterback at Lake Travis," he said during spring practice. "I've talked to Coach Wall about it a lot. The step that I'm taking from where I was last year to where I am now is colossal."