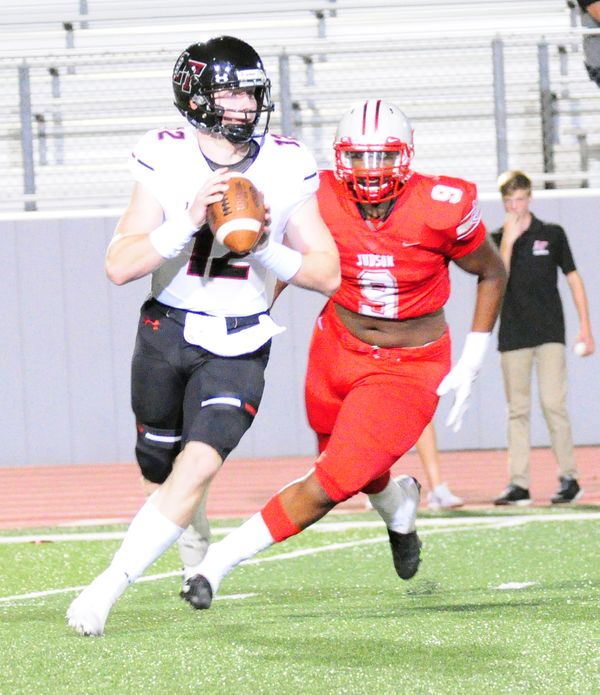 Judson pulls away from Lake Travis in offensive explosion
Top-ranked Converse Judson flexed its muscles Friday night, pulling away from sixth-ranked Lake Travis and opening the season with a 65-45 win.
Lake Travis, the reigning 6A, Division I champion, couldn't contain Judson quarterback Julon Williams. He threw for 191 yards and two first-half touchdowns, then added 118 of his 222 rushing yards after halftime, consistently getting outside containment after forcing the Cavaliers to commit extra defenders to stopping the Rockets' inside running game. He finished with 283 yards passing to top the 500-yard mark of total offense.
"They were just more physical than we were tonight," Lake Travis coach Hank Carter said of the Rockets, who launched a record-setting attack against the Cavaliers' defense.
Judson's 65 points are the most scored against Lake Travis in a history that dates back to 1984. Lampasas had beaten Lake Travis 63-16 in 1993. Hays is the only other opponent to score 60 points against Lake Travis, beating the Cavaliers 61-20 in 2001.
Lake Travis' inglorious night saw Judson rack up an unfathomable 753 yards of offense, scoring on six drives that covered at least 75 yards. Sincere McCormick added 113 yards rushing for the Rockets.
Judson's defense fared only marginally better against Lake Travis' offense. The Cavaliers racked up 582 yards. Matthew Baldwin, making his first start, passed for 436 yards and five touchdowns, completing 30 of his 56 passes. The 56 pass attempts are a Lake Travis single-game record (Garrett Gilbert, 49 vs Westlake, 2006).
Sophomore Hudson Card, making his varsity debut, rushed for a team-high 55 yards while catching six passes for 134 yards. He scored three touchdowns. Garrett Wilson caught 11 passes for a game-high 212 yards, and Kyle Wakefield caught six passes for 42 yards and two scores.
All told, the teams combined for more than 1,300 yards of offense and 110 points. The 110 points rank second all-time to the 115 that Lake Travis and Steele combined to score in the Cavaliers 59-56, double overtime win.
Both teams came out sprinting. Baldwin found Wakefield to give the Cavaliers an early lead only to have Williams hit Kishaun Fisher for a 30-yard score on a fourth down to tie the game. Lake Travis led 10-7 and looked to take early control but Rashad Wisdom picked off an errant Baldwin pass and returned it 65 yards for a touchdown.
The teams traded scores until late in the half. Judson led 35-32 when it forced Lake Travis to punt for the first time. Williams responded by driving the Rockets 94 yards in just seven plays, capping the drive with a 22-yard scramble to close out the first half. Judson took control by scoring quickly to open the third quarter on Williams' 40-yard run. He added a 69-yarder for good measure.
The win marked Judson's third straight in the series with Lake Travis, The loss is the fourth season opening loss for Lake Travis in the last five years. Judson won 25-19 in 2013; Waco Midway won 38-30 in 2014; Judson won 35-28 in 2016.