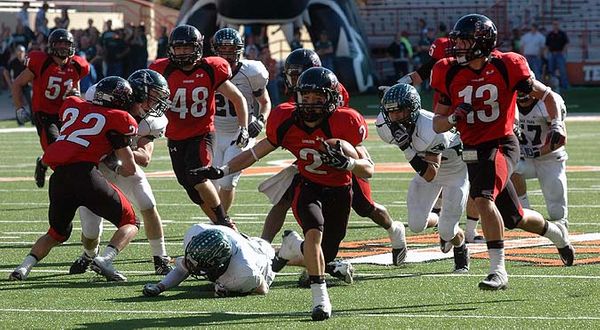 Lake Travis has proven tough to beat in season rematches, DKR
Originally published at Statesman.com.
When Lake Travis and Judson meet for the second time this season in Saturday's 6A, Division I Area playoff game, the game marks the seventh time the Cavaliers have played the same team twice in a season.
In the first six rematch scenarios, the Cavaliers had won five of the regular season meetings and all six of the higher-stakes playoff meetings. In 2010, Cedar Park topped Lake Travis 35-21 in the regular season. With its season-opening 65-45 win, Judson becomes just the second team to face the Cavaliers in the playoffs after winning the regular-season meeting.
"It doesn't happen often," Lake Travis coach Hank Carter said of his team's chance to avenge a regular season loss. "We don't want to start losing a lot of games in the regular season, either, I can assure you."
Carter hopes Saturday mimics the 2010 season's rematch with Cedar Park. The Cavaliers exacted a most painful revenge, beating the undefeated Timberwolves 21-20 in the 4A, Division 2 regional final that served as a springboard to the school's fourth state title.
Just as they did with the Timberwolves in 2010, the Cavaliers will look to avenge a regular-season loss to Judson at Darrell K Royal-Texas Memorial Stadium, a building in which the Cavaliers have never lost.
"We've got a pretty good record over there," Cavaliers coach Hank Carter said Tuesday. "We want to try and keep that."
Indeed, his team has won all five games it's played at the University of Texas. Lake Travis' trips to DKR include two regular-season wins over Westlake, two playoff wins over Cedar Park and a playoff win over Killeen.
The Cavaliers haven't played at DKR since 2011, and Carter said coaches should feel obligated to take advantage of these opportunities when they present themselves.
"When we have this opportunity – I don't know about you but I never got to play in the University of Texas Stadium when I was in high school – we need to do it," he said. "It's really cool to go play at a stadium with so much history. It's so familiar to these kids. All of them have been to games over there. Now they are going to get a chance to play one."
Friendly Cavalier confines at DKR
2008: LT 71, Killeen 9
2010: LT 32, Westlake 21
2010: LT 21, Cedar Park 20
2011: LT 35, Westlake 7
2011: LT 14, Cedar Park 9
Rematches
2016 vs Westlake
Regular Season: LT 49, Westlake 7
Playoffs: LT 51, Westlake 3
2015 vs Waco Midway
Regular Season: LT 48, Midway 24
Playoffs: LT 55, Midway 14
2011 vs Cedar Park
Regular Season: LT 24, Cedar Park 21
Playoffs: LT 14, Cedar Park 9
2010 vs Cedar Park
Regular season: Cedar Park 35, LT 21
Playoffs: LT 21, Cedar Park 20
2010 vs Kerrville Tivy
Regular Season: LT 38, Tivy 37
Playoffs: LT 48, Tivy 42
2008 vs Killeen
Regular Season: LT 50, Killeen 9
Playoffs: LT 71, Killeen 9