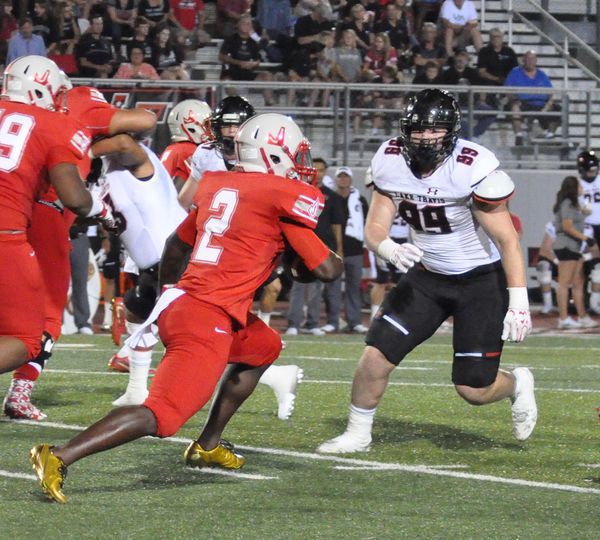 More experienced Cavaliers prep for rematch with explosive Judson
When Lake Travis met Converse Judson in the 2017 season opener, the eyes of Texas high school football were focused on Rutledge Stadium. Twelve long weeks later, the teams meet again and nothing has changed, though the venue – Darrell K Royal-Texas Memorial Stadium – and stakes have grown considerably.
The Cavaliers and Rockets again have the state's attention as the Region IV heavyweights meet in the Area playoffs. Neither are ranked as highly as they were in the season-opener: Dave Campbell's Texas Football ranked Judson first and Lake Travis fifth entering the season. Entering the playoffs, DCTF ranked Judson sixth and Lake Travis ninth, but it's a meeting of teams with realistic aspirations toward the 6A, Division I state title.
On that steamy September night, the Rockets turned heads by handing Lake Travis an unprecedented loss. Judson set opposition records by scoring 65 points and racking up 753 yards of offense, including 462 on the ground. Quarterback Julon Williams rushed for 222 yards and passed for another 283 while delivering five touchdowns.
"That first game is just a memory," said Lake Travis defensive back Ryan Wilkins. "We did not play our best, and honestly I don't like to think about it."
If the Cavaliers hadn't thought much about that game since, they must now face that demon head-on. Lake Travis coach Hank Carter said his team has come a long way from that season opener, and even the players don't quite recognize themselves on film.
"The kids kind of laugh when they watch film of themselves from that first week because of how lost we were," he said. "We've gotten a lot better."
The progress that comes with experience works both ways, though. The Rockets haven't sat idly by content to bask in the glory of that win.
"That being said," he admitted, "they have probably gotten a lot better, too."
The 10-1 Rockets have been steady throughout the season. Their only hiccup came against Smithson Valley, a 40-37 overtime loss in which Williams didn't play due to an injured ankle. Williams missed three games and coach Sean McAuliffe hasn't put too heavy a load on him since he's returned. In two games back in the lineup, he's run with the ball just eight times for 25 yards.
Carter, along with 9-2 Lake Travis' entire defense, are preparing to see a much healthier Williams.
"I don't know if he will be full speed, but it doesn't matter," Carter said. "His pretty-close-to-full-speed is fast enough. We haven't played many as good as him."
"We need to limit the scrambling and letting him out of the pocket so he can extend the play," said Lake Travis safety Ty Badciong. "If we can do that, it will be huge."
While keeping the quarterback from the type of big game he had in the opener is the primary focus, Carter knows that the Rockets have plenty of other weapons when Williams doesn't keep the ball.
"They have a stable of running backs," Carter said of a group that includes Sincere McCormick, Rashad Wisdom and Jay Miller. "One of them's not as elusive as the others but they all are fast, they all run hard."
Wilkins and his teammates know the challenge they face Saturday.
"I think this is the most athletic offense we've faced," he said.
Nearly overshadowed by Judson's offensive domination in the opener, the Cavaliers had plenty of success throwing the ball against Judson's secondary. In his first start, Matthew Baldwin passed for 435 yards and five touchdowns, and the receiving trio of Garrett Wilson, Hudson Card and Kyle Wakefield all had big games. Despite missing last week's game with a sprained ankle, Carter hopes Baldwin and his stable of receivers can again find some success against Judson's secondary.
"They've given up points fairly consistently to teams that can throw the ball, and last time I checked we can throw it pretty good," Carter said. "We need to make sure we take advantage of those opportunities."
While the Cavaliers had success through the air, Judson's defensive front, anchored by DeMarvin Leal (57 tackles, 14 tackles for loss, 25 quarterback pressures), allowed just 133 yards rushing, 44 after the outcome had been decided. The Cavaliers have focused more on running the ball of late, moving Wakefield from tight end to running back, and Carter said his team must find some success to keep the Rockets from charging at Baldwin without a second thought.
"We need to establish a running game when we want to run it," he said.
Carter understands, though, that his team's ultimate success Saturday will depend on how well Lake Travis' defense plays against Judson's offense.
"Obviously, we need to do a better job against the quarterback, but we just need to do a better job period," he said. "We know how to line up. We recognize things faster. We fit better. We play with the proper leverage. We were just really lost the first time. We need to make them earn things, and we did not make them earn anything last time. I'm not saying they wouldn't have [earned it] anyway, but we didn't even line up well enough to make them do that."
Sophomore linebacker Maui Trevino, Lake Travis' leading tackler with 94 stops, made his varsity debut in the season-opener but doesn't use inexperience as an excuse for what happened.
"That was everyone's first game except for maybe two people," he said. "We all have a lot more experience now."
The experience helps, but Carter knows that improved play that comes from experience may not be enough to get Lake Travis over the top.
"We're going to play that stuff a lot better, but that doesn't guarantee anything because these guys are very good," he said.