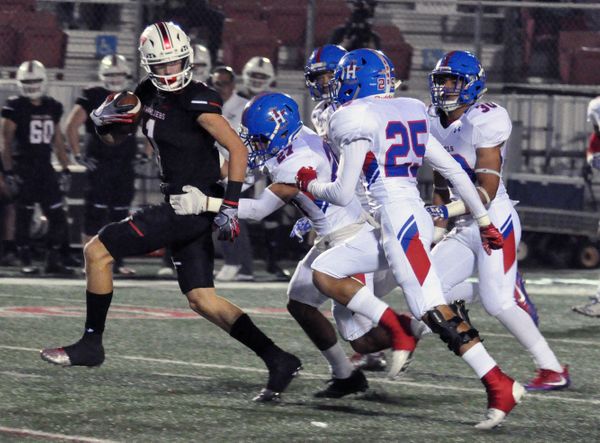 Newcomer proving to be Cavaliers' wild Card
Originally published Oct. 4 at Statesman.com.
In selecting their "Reloaded" theme for the 2017 season, Lake Travis sent a not-so-subtle reminder that, despite the graduation of a highly decorated, highly recruited class of seniors, these Cavaliers wouldn't find points hard to come by.
Sure, the Cavaliers had just one known commodity back on offense in junior receiver Garrett Wilson. Alec Fuentes and Kyle Wakefield stood eager to make their mark as senior starters. And throughout pre-season practice, coaches quietly mentioned a quiet, unassuming sophomore who just might turn a few heads.
"The kid people need to be familiar with is Hudson Card," head coach Hank Carter said in early August. "As a freshman entering his sophomore year, he's one of the best athletes I've ever seen."
"After two spring practices, it was clear to me he was going to be on the field, period," offensive coordinator Mike Wall said as the Cavaliers prepared to take on Converse Judson. "He's not going to sit very much at all."
After missing the bulk of his freshman season with a back injury, Card spent the spring as the backup quarterback to Colorado State-bound senior Matthew Baldwin, learning the nuances of Wall's offense while moonlighting as a receiver. While his coaches and teammates knew what the sophomore could do catching balls, he didn't emerge as, well, a wild card, until Lake Travis took the field against Judson.
"I was a little nervous at the start, but once you go through the first play, it's just football and I've been doing that for a while," Card said.
Despite playing in his first game since his eighth-grade year in the Houston area, Card showed little rust, or unfamiliarity with the new position. He displayed sure hands and the ability to beat coverage, finishing with 134 yards and two scores in his varsity debut. He finished the game at quarterback and added a third touchdown on the ground.
"It was definitely a big step," Card said. "I was confident because I knew I had prepared for it. My teammates have really helped me with that, and the coaches have prepared all of us."
Carter likens Card to former Cavalier standout receiver.
"I don't think we've had anybody quite like Hudson before," Carter said. "He has good speed but he's not a blazer. He's tremendously elusive, kind of like a young Zach Austin after he has the ball, but he's taller [6-foot-2], bigger than Zach, long and physical."
All of those tools were on display Friday against Hays, when he scored three first-half touchdowns and posted his second 100-yard receiving day. He used his speed to get behind the defense for his first score, then showed his strength when he dragged three Rebels into the end zone with him for a second.
"You saw how he runs with the ball after he gets it," Carter said. "He can shake you, or, if he needs to, he can push the pile. I think there was one play the other night where he eight guys trying to bring him down."
Through five games, Card's been one of the Cavaliers' most consistent offensive weapons. He ranks second on the team with 24 catches for 466 yards and eight touchdowns.
He understands his role and how and when Baldwin may look his way as defenses pay close attention to Wilson.
"We came out and took what they gave us," Card said of the early success against Hays. "It was just to my side more early in the game. In the second half, Garrett did his thing, which was fun to watch."
While he's making his share of plays, Card also takes every opportunity to learn from his teammates, Wilson and Baldwin in particular since those are the two positions he plays.
"I learn a lot from watching Garrett," he said. "The way he runs his routes, his ability to just go up and get the ball, high pointing it. His work ethic is incredible. He really pushes me. Obviously, I want to be as good as I can be and get to where he is.
The success he's having catching the ball will benefit him when he succeeds Baldwin in 2018. He's making the most of his opportunity to learn from Lake Travis' latest FBS-level quarterback, and he's getting a chance to contribute.
"Me running the routes helps me where the other receivers will be," he said. "You get a different perspective reading the defense as a receiver, which will help for sure as a quarterback. And Matthew's a good teacher for me, and him throwing me balls is kind of cool, too."
Card's not the first future Lake Travis quarterback to see the field catching passes from a senior. Michael Brewer spent the bulk of his sophomore season playing receiver as Garrett Gilbert finished a record-setting career. In 2003, Todd Reesing led the Cavaliers in receiving while Nick Bird directed the attack. While Reesing pre-dates Carter at Lake Travis, the coach watched Brewer grow catching passes before he quarterbacked the Cavaliers to a pair of state titles.
"It's a pretty good thing," Carter said. "If you are a good athlete and can play quarterback, going to play receiver gives you a head start on learning it."
Though is time at quarterback has been limited to just two games, he's completed five of his seven passes, a reminder that despite his success catching the ball, he's still more comfortable throwing it.
"I still think my primary position is quarterback, but I'm playing receiver this year," he said.
Carter agreed.
"He's a handful at receiver," the coach said. "The sky's the limit for him. When you see him throw the ball, you'll really see that he's a quarterback playing receiver. He's got a really bright future."
And doing his part to keep Lake Travis' potent offensive tradition alive.
"The first thing I will tell you is that last year we had a tremendous amount of deep weapons on offense that make it difficult for defenses," Carter said. "Obviously we're different at running back than we were a year ago. But everywhere else, we're pretty dangerous. Matchups are difficult for our opponents, and all of those guys are playing really well."
Photo gallery: Hudson Card
Lake Travis' sophomore may be the quarterback of the future, but he's proven a very capable wide receiver in the present.