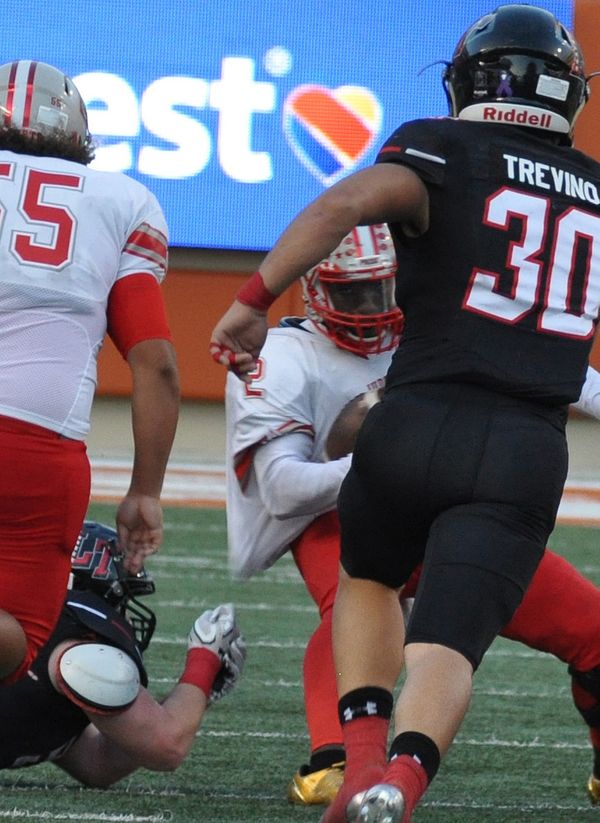 Redemption song: Lake Travis' defense erases memory of season-opening disaster
Lake Travis' bend-but-don't-break defense stepped up on the biggest stage Saturday afternoon, doing its part to help the Cavaliers avenge a season-opening loss at Converse Judson.
The Cavaliers came up with two turnovers and sacked Rockets' quarterback Julon Williams four times in a 47-39 win that saw Lake Travis erase a 26-14 second quarter deficit.
"What a game," Lake Travis coach Hank Carter said." I'm so proud of my kids. They fought their butts off and it was awesome."
Lake Travis led 14-3 in the second quarter before Judson stormed back. Williams' 72-yard touchdown run brought back memories of the season-opener, when the Rockets blitzed the Cavaliers 65-45 and racked up 753 yards of offense. Williams' run kickstarted a 23-0 run that brought back memories of that first meeting.
"At times it started looking like it was going to be the same old deal," Carter said.
Except it didn't. Maui Trevino recovered a fumble late in the second quarter, leading to Cameron Dicker's 48-yard field goal to cut the deficit to 26-17. Lake Travis' defense did just enough late in the half to keep the Rockets from adding to their lead, and though the Cavaliers headed to the locker room trailing for the first time since that season-opener, they didn't wallow.
"The momentum part of the game was huge," said senior safety Nathan Parodi. "We went into halftime with our heads down a little bit, but we've got some leaders in the locker room helping us, motivating us. All it takes is one play, and that got us fired up again."
After each team punted early in the third quarter, Garrett Wilson got behind the Judson defense and caught Matthew Baldwin's pass in stride for a 73-yard touchdown, getting the Cavaliers – and their subdued fans -- back into the game.
"That was by far the best crowd I've ever seen," senior defensive tackle Kade Langston said. "It was more people than there were at the state championship last year. It was a great atmosphere and there's no better feeling than beating a quality opponent in a close game especially when you have to come from behind."
Having cut the lead to 26-25, the Cavaliers looked to seize on the momentum with an early onside kick, but Judson recovered. Three plays later Williams hit Fisher for a 42-yard score, pushing the lead back to 33-25.
Lake Travis responded with another scoring drive that Wilson capped with a nifty six-yard run after catching a quick pass from Baldwin. Trailing 33-31 after the two-point conversion failed, the Cavaliers tried another onside kick.
"We pulled out all the stops," Carter said. "We kind of figured we might have to steal a possession. We had a plan for that. Our real good onside kick didn't work, but we went to our number two and it worked out."
Dicker followed his grounder and pounced on it before the Rockets could react, keeping the Cavaliers on the move as the third quarter ended. Though Dicker missed a 46-yard field goal to open the fourth quarter, the Cavaliers maintained their momentum when Parodi intercepted Williams to stop Judson's drive.
Mixing a handful of quarterback runs and short passes, Baldwin drove the Cavaliers to the goal line, and Hudson Card's diving touchdown gave the Cavaliers a lead they wouldn't relinquish. Leading 39-33, the defense stopped the Rockets again and upped the lead to 47-33 when Wilson scored one play after Judson snapped the ball over punter Sincere McCormick's head.
The Rockets trimmed the lead to 47-39 and recovered their own onside kick with two minutes left. Williams quickly marched Judson to the Lake Travis 36-yard line before the Cavalier defense made its final stand. After a false start, Sebastian Monroe stopped Williams for a five-yard loss, and after an incompletion, on fourth down Langston broke through the line and pulled Williams down despite the quarterback's frantic effort to escape.
"[When I had him and he started to slip away], I was just thinking 'oh lord, somebody come get him,'" Langston said. "It was like trying to hold him in a rabbit trap. It wasn't just me with the sack. It wouldn't have happened without the defensive ends forcing him straight back. It really was a team sack."
For Carter, the sack brought back memories of 2010, when Dylan Bittles' late sack ended Cedar Park's comeback hopes against the Cavaliers in a playoff game at DKR.
"It's great," Carter said. "I've been on this field before when the defense made a big play at the end after struggling all day."
The sack not only wrapped up the win but gave the defense a measure of redemption, something they'd been working toward since that first game.
"We got a wake-up call when we get destroyed by these guys in week 1," Parodi said. "We realized that if we really want to win state, we're going to have to give a whole lot more. We've worked the entire year acting like every practice was a state championship game practice, the week of the state championship game. We prepared for Judson like this was a state championship game."
The statistics will show that the Rockets piled up 509 yards of offense, a big number but a far cry from the 753 they amassed in week one. Of that 509, only 128 came after halftime. Williams, who rushed for 222 and passed for 291 in the opener, finished with 157 yards rushing and 184 passing. Langston said the improvement – and end result – give the Cavaliers confidence moving forward.
"This was a great team and we played them very, very well," Langston said. "There's obviously a few things we can keep getting better at. We just have to focus on those points going forward. But this was definitely a confidence booster."