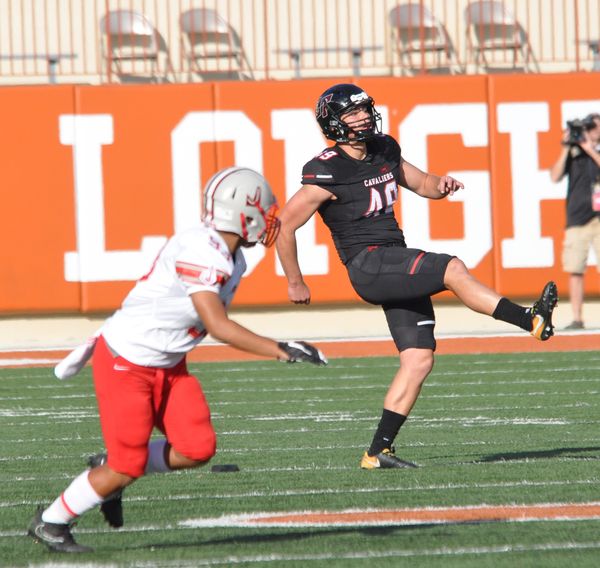 Semifinal features showdown of state's top kickers in LT's Dicker, Katy's Small
Saturday's match-up is about more than the irresistible force of the Lake Travis offense against the immovable object of Katy's defense. The game features two of the state's best kickers: Lake Travis' Cameron Dicker and Katy's Seth Small.
The opposing specialists are committed to play at two of the state's biggest college programs, though in the current reality of the college football landscape, their paths won't cross. Dicker, who holds Lake Travis' records with 33 field goals and 226 extra points in his career, and Small are committed to kick for the Longhorns and Aggies, respectively.
Both should figure heavily in Saturday's game, which will be played outside in conditions that include a 100 percent chance of rain. That could make the battle for field position more key than usual. Both Dicker and Small handle both kicking and punting duties for their teams, so their right legs will be integral players in the game.
"Controlling field position is always important but it will be one of the bigger aspects of this game," Dicker said this week. "Playing a part in that makes it fun."
So does squaring off with one of his friendly rivals. Dicker said he and Small have kicked together at one camp but are part of a group text and chat regularly about the season. They've been talking about the possibility of playing each other since the season began, and they texted about it again Monday.
"We were texting last night talking about how this was what we've been wanting since the beginning of the season," Dicker said. "We thought that we would probably go up against each other and here it is. We are excited for it and it should be fun."
For his part, Dicker's hoping the game turns out to be more fun than the last time the Cavaliers played the Tigers. In the midst of an all-state season, Dicker didn't have much of a part to play in the 2015 title game as the Tigers shut down Lake Travis' high-scoring attack. Dicker contributed a single extra point and kicked off just twice.
"It was a big bummer," he said. "It was the first time that we'd been to state [in a while] and everyone was really pumped to be there. It hurt to get knocked like that."
How can the Cavaliers avoid that feeling again?
"We have to get it started right away," he said. "We need to go take an early lead and then play like we're going to win the game."
Dec. 15, 2017 - Jay Plotkin