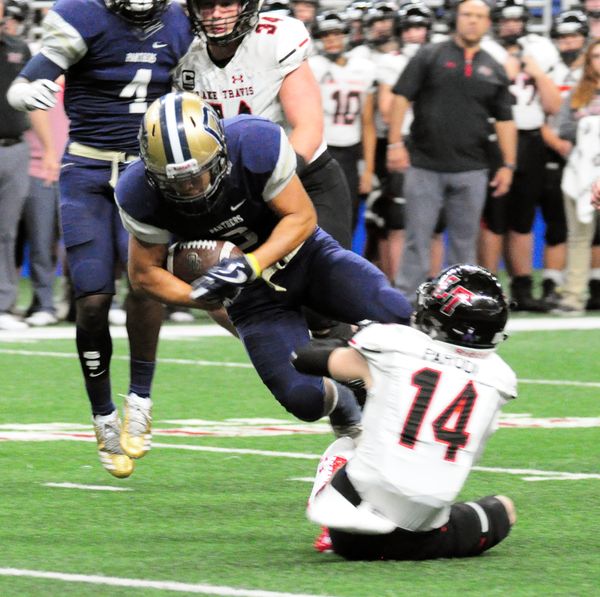 State preview: Parodi, Lake Travis defense hoping for more takeaways against stingy Allen
Originally published at Statesman.com.
Most championship caliber football teams share a common trait: they rarely suffer turnovers, or if they do, they manage to create more than they allow.
Both Allen and Lake Travis live that formula. The Cavaliers took advantage of three Katy turnovers in a 28-14 win to reach the finals. The Eagles took the ball from Cedar Ridge five times in a 28-7 semifinal win. More importantly, neither Lake Travis nor Allen turned the ball over Saturday. In fact, the Eagles' offense hasn't turned it over since the season's fifth week. A muffed punt in last week's win over Cedar Ridge became the team's first turnover of any kind since Oct. 5.
"They don't turn the ball over much and they are very talented," Lake Travis coach Hank Carter said.
Finding a way to get the ball away from Allen's talented offense – which features a handful of Divisin I prospects including quarterback Grant Tisdale, receivers Theo Wease and Carson Schleker, running back Brock Sturges and linemen Trey Stratford and Jack Topping – will be a key if Lake Travis hopes to defend its 6A, Division I title. The Cavaliers forced two turnovers in last year's 41-13 state championship win over The Woodlands.
While the Cavaliers started slowly defensively this season, they've become more and more opportunistic as the season has progressed. In five playoff games, Lake Travis has forced 11 turnovers, including seven interceptions. The Cavaliers are plus-nine in turnover ratio. The Eagles are plus-10.
Senior safety Nathan Parodi leads Lake Travis' effort with four playoff interceptions and seven for the season, tying the school's single-season mark.
"We just have to be in the right spot at the right time," Parodi said. "It's a little luck, a little skill and a little execution all comes into play. If we are where we are supposed to play, maybe we make something happen."
Parodi's been in the right spot frequently. One interception sealed the Cavaliers' win 34-31 win over Steele. Two more prevented touchdowns – late in the first half of games against Westlake and San Antonio O'Connor. Two more have come on acrobatic tipped passes.
"It's partially luck, partially focus," he said following his second-round, tip-drill interception against Judson. "I guess the pieces fall together in the correct order and you can come down with it."
Carter said Parodi's consistency throughout the season has been a key to the Cavaliers' defensive improvement.
"Nathan makes play after play after play," Carter said. "He's been our steady Eddie. I was a little shocked that he didn't get an interception in the last game because it seems like he gets one every game."
Even without an interception from Parodi, snapping a streak of five straight games with an interception – the Cavaliers kept their turnover streak alive. Reid Bacon and Kade Langston each recovered fumbles and Ty Badciong intercepted Austin Marshall's final pass to seal the victory.
While Carter – and his defensive leaders – would love to continue the streak of creating turnovers, he'll be just as happy if his offense, which has turned the ball over just twice in the playoffs, can avoid them against the Eagles' big-play defense.
"We need to not turn the ball over and win the special teams battle," Carter said. "If we do that, I think we've got a good shot at it."
Jay Plotkin, Dec. 20, 2017