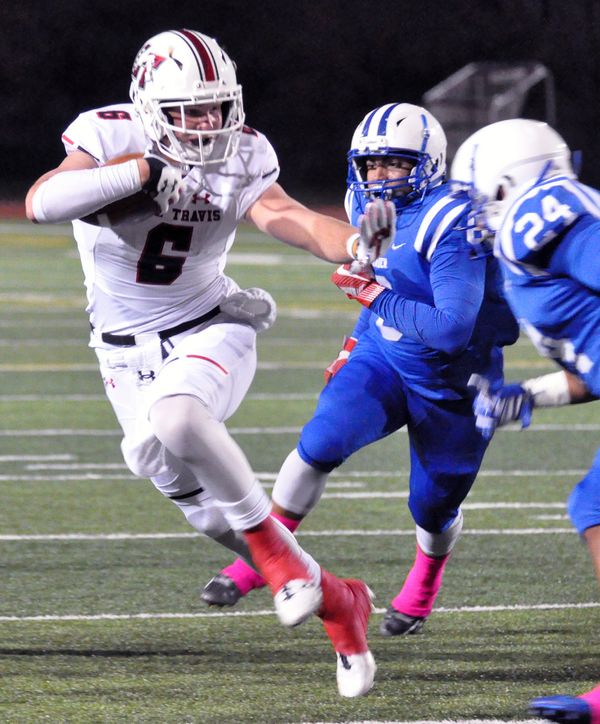 Versatile Wakefield gives physical boost to Lake Travis rushing attack
Originally published at Statesman.com.
An almost unnoticed performance in Lake Travis' 38-17 6A, Division I, state quarterfinal win over previously unbeaten San Antonio O'Connor last Saturday could hold a key to Saturday's state semifinal matchup with Katy.
Junior receiver Garrett Wilson made headlines with his three touchdowns, and Matthew Baldwin drew plenty of post-game attention. But senior Kyle Wakefield, the Cavaliers' Swiss Army Knife in cleats, escaped to the locker room after the team's requisite photo shoot with the regional championship banner without fanfare.
With one bruising run after another, Wakefield (6-foot-1, 210 pounds) helped his team turn in a much-needed physical performance. His 102 yards on 20 carries both marked career highs, and he became the first non-quarterback to rush for 100 yards in a game for the Cavaliers this year.
"Our offensive line opened up gaps and let me run through them," said Wakefield, who started the season at tight end before moving to running back. "With [O'Connor's] defense having to worry about the phenomenal athletes [Wilson and Hudson Card] we have outside, we were able to run all over them."
"I love the way that Kyle ran the ball last Saturday and I love the way our offensive line played," Lake Travis coach Hank Carter said. "We need more of that this week."
Wakefield knows Lake Travis must establish a running game to keep Katy from focusing solely on stopping Wilson and Card. He also knows that running the ball against the state's stingiest – and most physical – defense Saturday will be a tall task. Katy enters the game 12-0 and ranked fifth nationally in the latest USA Today Super 25 poll. The Tigers allow just 6.0 points per game.
"They have a lot of really big guys who are going to play Division I," Wakefield said Wednesday. "Their nose tackle [Moro Ojomo] is 6-3, 275. The defensive end [Michael Matus] who picked off Charlie [Brewer] in 2015 [6A, Division 2 championship game, a 34-7 Katy win] is still there. He's a great player too. They are big guys and they are going to bring it. We need to be ready."
The Cavaliers have been getting ready since mid-season. While the passing attack – featuring Wakefield catching six touchdown passes in his first four games after taking over for current University of Texas tight end Cade Brewer – thrived early, the running game struggled. Rock bottom came when the Cavaliers rushed for negative yardage in a 21-14 loss at Westlake, prompting Carter and offensive coordinator Mike Wall to change directions.
"The next Monday at our scouting report meeting, they told me they wanted to try me out at running back to see how I do," Wakefield recalled. "I guess I did pretty well because they've kept me there."
"Kyle is uniquely gifted catching the ball, and after the catch he's shown that he's a very physical runner," Carter said. "It's just about who's going to give us the best opportunity to play more physical."
When Wakefield shifted into the backfield, senior Carson Cross (6-2, 190) moved into the lineup at tight end. Undersized sophomore Nick Villareal (5-10, 175) followed Wakefield's example and switched positions from running back to linebacker.
Since the move, Wakefield's rushed for a modest 400 yards and seven touchdowns, capped by the superlative effort against O'Connor. He still ranks fourth on the team with 35 catches and he's even thrown a touchdown pass.
Wakefield's versatility hasn't been limited to this season's position change. He spent his junior season at defensive end and also handled the field goal and punt snap duties. In addition to his offensive duties this season, he still makes cameo appearances at defensive end and remains a special teams fixture, holding on extra points and field goals for Texas-bound kicker Cameron Dicker.
"I don't even know if I have a natural position any more," he said. "Whatever position [Coach Carter] wants me to play, that's what I'll play."
Dec. 14, - Jay Plotkin