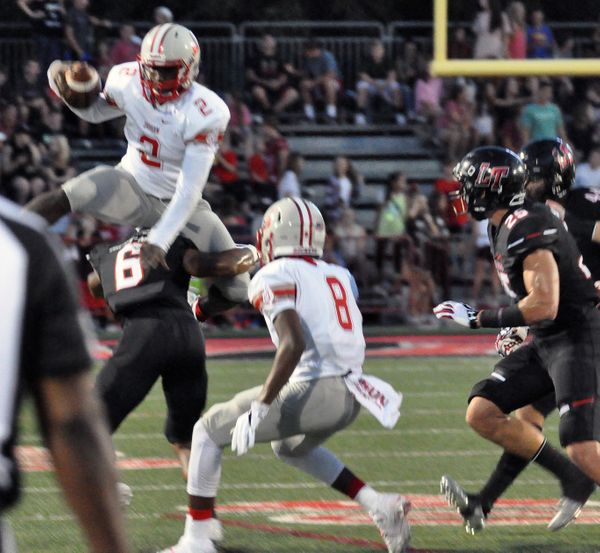 Without scrimmage, opener will be true first look at defending state champs
A pair of Region IV's elite square off to open the 2017 season when Lake Travis visits Converse Judson Friday.
Both teams enter the season with ideas of adding a seventh state championship to the trophy case – Lake Travis tied Judson with its sixth title, won last season – and rankings that place them among the preseason favorites. Dave Campbell's Texas Football ranks Judson first while the Associated Press ranks the Rockets fourth. Both polls rank Lake Travis sixth.
"It will be a great football game," said Lake Travis defensive tackle Kade Langston. "These are two outstanding teams with an abundance of talent. I'm really excited for the challenge of playing against good competition. I think all of us are."
Langston is one of three returning defensive starters for the Cavaliers, who'll face the daunting task of containing explosive Judson quarterback Julon Williams, something they struggled with last season in Judson's 35-28 opening week win. Williams is one of eight starters who return the Judson offense. The Rockets also return eight defensive starters.
"He's a tremendous athlete," said Cavaliers coach Hank Carter. "He's elusive, he throws the ball well, and he's in great shape. He runs all over the field – he did it against us a year ago. I don't think he ever got tired. We certainly did. He hasn't slipped under our radar, I can assure you."
In three years as the Rockets' starter, Williams has generated more than 7,500 total yards and 60 touchdowns. As explosive as he is, Carter knows the Rockets surround him with plenty of talent, including running backs Sincere McCormick and Jay Miller and receiver Kenyon Morgan. Both Morgan and Miller possess breakaway speed that will test the Lake Travis defense.
"He's got a lot of weapons around him," Carter said. "Most of their players [from last year] are coming back. They want to run the football, throw a lot of screens to keep you spread out, and they are going to take their shots in the vertical game. If you're prepared for all that, then the quarterback can still take off and he's a handful to get on the ground."
Lake Travis will try to slow Williams with a young team that missed its only opportunity to scrimmage another opponent when Friday's contest with Cedar Ridge washed away. With eight new defensive starters and nine newcomers on the offense, a chance to get some butterflies out would have been beneficial.
"We wanted to scrimmage," Carter said. "We needed it. That being said, we're not going to look at it as a negative."
Senior defensive back Nathan Parodi, one of three returning starters, echoed Carter's thought.
"I think that we really could have used that scrimmage to really see how our guys play against another opponent and to see which players can do their job," he said. "I don't think that we are unprepared though."
Parodi said the Cavaliers spent a fair amount of time getting familiar with Judson last week, and with Friday approaching, all Lake Travis eyes are firmly focused on the Rockets.
"We know who their star players are, we know what they like to do, and we know what we have to do stop it, it will just come down to how we execute as a team," he said.
Along with their coach, Parodi and Langston are eager to see how Lake Travis' host of first-time starters rise to the challenge – and the expectations that come with wearing a Lake Travis uniform. They've done the necessary preparation and have improved with each practice.
"These young guys have looked composed and comfortable during practice and have done nothing but improve since spring ball," Parodi said. "As long as they don't get caught up in the all the hype and don't get overwhelmed, we will be fine."