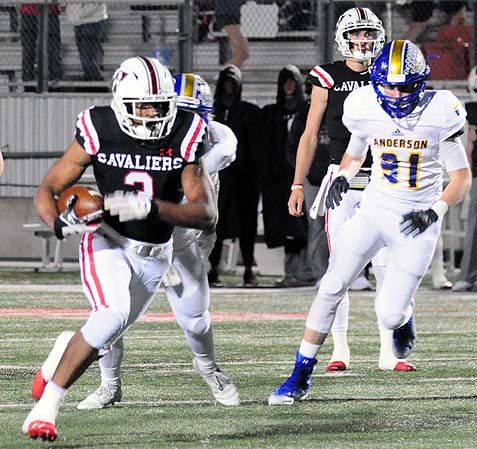 After nine weeks out, Brown-Nixon eager to rejoin running back rotation
The 2018 season should have been Sean Brown-Nixon's breakout season.
After winning the starting running back job in the spring, Brown-Nixon got the season started on the right foot with a 103-yard effort in the opener against Arlington Martin. But late in the third quarter, he suffered a broken foot and didn't play again until senior night.
"I was trying hard to get back sooner but in reality, that just wasn't going to happen," Brown-Nixon said earlier this week after a successful return to action. "I still wanted to be out there. I had to do so much watching. It was frustrating to just sit there."
Brown-Nixon returned to action against Anderson and hit the ground, well, running. His second carry produced a touchdown, and he added a trio of long gains before taking a seat along with the rest of Lake Travis' starters. He finished with 57 yards rushing on just seven carries.
"We wondered how long it would take him to come in and get acclimated, but I thought he looked fantastic," Lake Travis coach Hank Carter said.
The Cavaliers eased the senior back into the lineup following a grueling recovery period, and Brown-Nixon said he felt a bit out of place at first.
"Once I was out there, it felt a little weird, but it started to come back to me," he said. "Once I had those two drives, after that I felt comfortable again."
While he's healthy enough to play again, Brown-Nixon said he's still not quite 100 percent healthy, and a little bit of soreness in his surgically-repaired foot – coupled with a large Lake Travis lead – gave him the rest of the night off.
"After the game it started to ache a little bit, even at halftime, which is why I didn't go back in after that," he said. "That's the only thing keeping me from being 100 percent."
He hopes to be closer to 100 percent when the Cavaliers take on Smithson Valley in the 6A, Division I Bi-District playoffs, and he hopes to help make up for lost time in the games he still has left to play.
"It was really frustrating," Brown-Nixon said of the time he missed. "I saw spots where the team needed me out there and I couldn't be there. I want to be there now."
Carter said Brown-Nixon's return gives Lake Travis another running back in what's become an effective running back-by-committee approach. Weston Stephens stepped into the starter's role following the injury, and he's combined with Marcelo Alanis and Wesley Erwin to gain 1,112 yards with 14 touchdowns. Their success kept the Cavaliers' offense somewhat balanced and kept quarterback Hudson Card from carrying too much of the rushing burden.
"The combination of all four of those guys was pretty potent," Carter said following the win over Anderson.
He's hoping for more of the same against Smithson Valley.