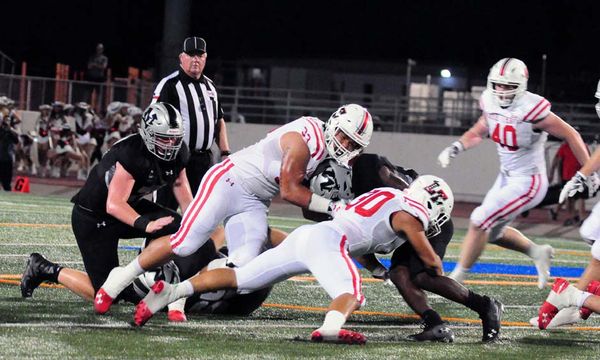 After solid showing, LT defense looks to eliminate busts against Summit
A year after opening the season with the worst defensive performance in more than a decade, Lake Travis opened the 2018 season with a solid defensive performance that had head coach Hank Carter smiling.
"It's a good start. I'll take it," Carter said. "Outside of really only a couple of plays defensively, we did a nice job. We just can't have the busts like we did."
Granted, Arlington Martin's offense didn't return as much firepower as Judson did to open the 2017 season. One of the busts resulted in a 77-yard touchdown run that proved to be the bulk of Martin's offense. The Cavaliers allowed just 170 total yards – a year after Judson gained 753 on Lake Travis.
"We had a couple of busts where we lined up wrong, but other than that we had it all put together," said junior linebacker Nick Villareal after making six tackles, including one for a loss against Martin.
Villareal qualifies as one of several new faces on the defense, starting for the first time after making the switch from running back late in the 2017 season. He opened last season as the starting running back before injuries slowed him and Kyle Wakefield took over. Does he miss carrying the ball?
"Running back is fun and all, but I think this is my natural position where I can flow to the ball," he said. "I'm a lot better at hitting people than getting hit myself. It's just been an awesome experience."
Villareal's conversion from running back to linebacker more resembles a return. Throughout middle school, he played both positions, mostly teaming up with classmates Tag Humble and Maui Trevino. Now he finds himself starting alongside them.
"I've been playing linebacker with them since I was little," he said.
About Mansfield Summit
Friday, Sept. 7 at Newsome Stadium in Mansfield
2018: 1-0; Def. Charles Page (Okla.) 41-28 in Border Brawl on Aug. 31.
Summit jumped out to a 27-0 lead and held on to defeat Charles Page as part of a Border Brawl series matching schools from Tulsa and the Mansfield ISD. Summit's 41-28 proved to be the Texas schools' only win of the series. Summit quarterback Brysen McKinney passed for three touchdowns and added two more on the ground. McKinney accounted for 289 of his team's 500 total yards. Jaelon Travis, Brendan Sirls and Hal Presley caught TD passes. Jayden Lott, a sophomore, rushed for 102 yards.
2017: 8-5, 5A DI Regional Semifinals (lost to Highland Park 52-20)
About the Jaguars:
McKinney leads the offense and TCU-bound cornerback William Jones anchors the defense. The Jaguars allowed 339 yards of offense against Page, half of which came in the fourth quarter as Page tried to rally from a 41-14 deficit
Series history: 1st meeting