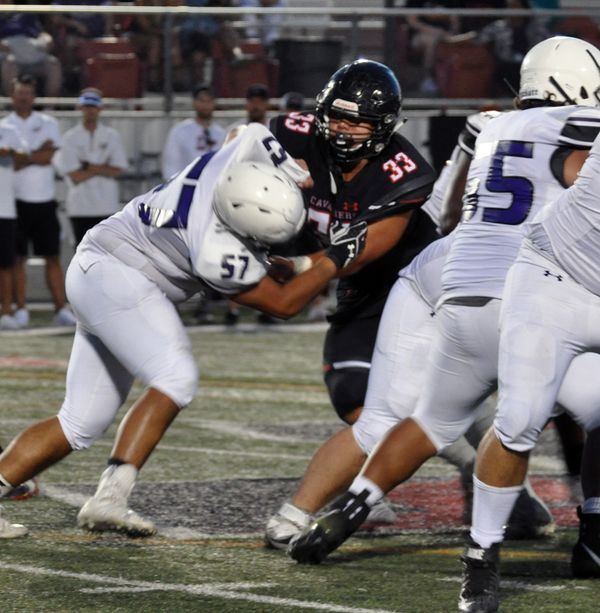 Around the field: How Lake Travis lines up
Originally published Aug. 29 in the American-Statesman/Lake Travis View.
Second-ranked Lake Travis kicks off the 2018 season with the first of at least two trips to Arlington this season to take on Arlington Martin. Here's a look at how the Cavaliers stack up position-by-position.
Quarterback
Hello: Hudson Card (jr). Also: Peyton Janecek (jr.), Nate Yarnell (soph.)
Card takes the reins after an impressive season at receiver and continues to, well, impress. He's already committed to play in college – the eighth straight Cavalier QB to do so, and he's shown the same type of accuracy predecessors Charlie Brewer and Matthew Baldwin displayed – Card connected on 15 of 17 passes in last Friday's scrimmage – before him. Due to the controlled nature of scrimmages, he's yet to show off his running ability, which figures to be a staple of the offense.
Running back
Hello: Sean Brown-Nixon (sr.). Also: Weston Stephens (soph), Wesley Erwin (soph).
Brown-Nixon earned the starting nod with solid work in the spring that carried over to preseason practice. He started slowly in the scrimmage against Cedar Ridge but got better as the evening moved along. "He gives us an aggressive, downhill runner," coach Hank Carter said. Stephens runs well between the tackles and can also figure in the passing game. Erwin, who'll also play at linebacker, reminds the coach of Colin Lagasse with his versatility, athleticism and surprising strength.
Receivers/TE
Hello: Garrett Wilson (sr.), Jeremiah Patterson (sr.), Kyle Eaves (jr), Greyson Sandlin (jr). Also: Cortland DeNisio (sr.), Reid Donegan (sr.)
Wilson continues to be a highlight waiting to happen, but it's not a one-man show. Patterson, Eaves and Sandlin all made multiple catches against Cedar Ridge and will factor in the passing game as well as DeNisio and Donegan. "Obviously Garrett is the freak, but we've got some studs along with him," Card said. Backup QB Janecek will also see reps at receiver and handle some of the kick return duties.
Offensive line
Hello: Chad Wolf (sr.), Dawson Weiss (jr.), Andrew Salem (jr.). Also: Payton Maxwell (sr.), Todd Moon (jr.) Also: Preson Holloway (sr.).
Wolf, Weiss and Salem return after starting as underclassmen on last year's championship game run. Maxwell steps into the center's role following Matthew Herrera's graduation. Wilson, among others, likes how the group performed in the 2017 title game and expects to see more of the same. "Our linemen group is going to be good," Wilson said. "They held up against a really good defensive line from Allen, and our guys were young."
Defensive line
Hello: Kaleb Wenson (sr.), Matthew Peterman (sr.). Also: Raleigh Erwin (soph), Hunter Simo (sr.), Ryan Colliau (sr), Trey Sofia (jr.)
Fully healthy after knee surgery as a sophomore, Wenson came on strong during the 2017 playoffs. He'll look to anchor a group Carter says will be key to the Cavaliers' success. "When we've been dominant up front, we've been tough to beat," he said. "We've got to find a way to get back to that." Peterman also returns from a knee injury and has worked at defensive end throughout the preseason.
Linebacker
Hello: Maui Trevino (jr). Nick Villareal (jr), Matthew Peterman (sr.). Also: Tag Humble (jr), Jacob Hopkins (jr.), Wesley Ervin (soph.)
Peterman has worked throughout the preseason at both linebacker, where he played extensively in 2016 before missing 2017 with a knee injury, and defensive end. Trevino stepped into the lineup after Peterman's injury and turned in a very solid season. Villareal started last season at running back before moving over to the defense. "Villareal has been very good at linebacker," Carter said. He made several plays, including a sack, against Cedar Ridge.
Defensive back
Hello: Hunter Henry (sr.), Copeland Gothard (jr.), Max Foit (jr.), Ife Ohalete (soph). Also: Reese Anderson (jr.), Aden Nava (soph.), Chris Chalmers (sr.).
Henry returns after spending two seasons at Cedar Park and can play any position from linebacker to safety to corner. Gothard started at corner and Foit moves over from safety, opening a spot for Ohalete. "He has really shown some explosiveness," Carter said. "He's a sophomore and he's still got big wide eyes, but he's shown a lot of ability to make plays."
Kicker/punter
Hello: Nathan Ellisor (soph.), Will Manley (sr).
Can Lake Travis replace Cameron Dicker's accuracy and 50-plus yard range? Maybe not, but Carter will settle for consistency from 40 yards and in. Ellisor's been the most consistent throughout preseason practice.