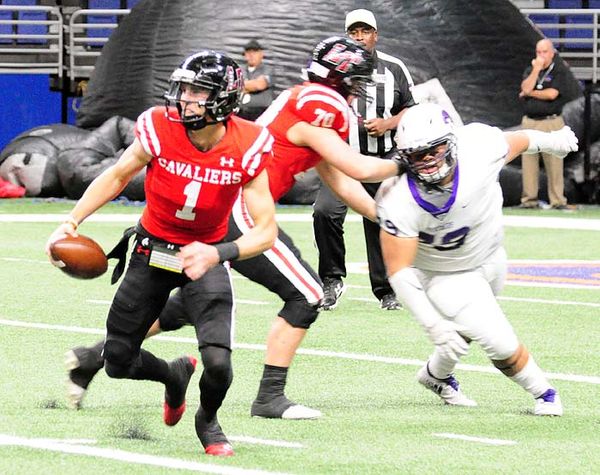 Card's seven touchdown passes help Cavaliers breeze past Weslaco
San Antonio – Hudson Card tied a Lake Travis single-game record by throwing seven touchdown passes to lead the Cavaliers (11-1) past Weslaco 56-14 in a 6A, Division I Region IV semifinal game in the Alamodome Saturday afternoon.
The win sets up a regional championship showdown with Converse Judson next Saturday back in the Alamodome. Judson (12-0), ranked third in the 6A Dave Campbell's Texas Football rankings, advanced with a 69-18 win over San Benito. Lake Travis knocked Judson out of the playoffs last year with a 47-39 Area round win. Both teams have been poised for another meeting since the playoffs began.
"We've always had this game in the back of our minds," Card said following his record-tying outing. "They are a great team and it should be a great game."
Card tied the record shared by Garrett Gilbert and Matthew Baldwin. He threw three touchdown passes to Garrett Wilson and two each to Kyle Eaves and Weston Stephens. Card did all of his damage while leading Lake Travis to a 49-0 halftime lead.
After losing a fumble on Lake Travis' opening series, he completed 17 of 20 passes, including his last 14 in a row, for a career-best 357 yards. He didn't play in the second half. He's now passed for 3,054 yards with 45 touchdowns on the season.
"Our start was a little bit shaky, but we cleared that all up and from the second drive on we played pretty well," Card said. "We came out a little sloppy but we improved throughout the game."
Card's early fumble was one three the Cavaliers suffered in the opening minutes but the only one they lost. Peyton Janecek fell on his own muffed punt and Wilson picked up a ball that Weslaco's Roy Trevino poked out of his hands on the Cavaliers' second possession.
Two plays after Wilson recovered his own fumble, he caught a 13-yard touchdown pass from Card to open the scoring. On Weslaco's ensuing possession, Copeland Gothard intercepted Jacob Cavazos' pass, setting up a 39-yard touchdown pass from Card to Wilson.
Following a blocked field goal, Card hit Stephens on a screen pass that turned into a 23-yard touchdown, and back-to-back touchdown passes to Eaves stretched the lead to 35-0 midway through the second quarter.
Weslaco (11-2) came into the game boasting an aggressive defense that allowed just 12 points per game. When the dust settled, the Panthers couldn't keep up with the Cavaliers' big-play offense. Behind Card and sophomore Nate Yarnell, the Cavaliers rolled up a season-best 447 yards passing and added 225 more on the ground.
"It's fun when we're playing like this," said Eaves, who gained a season-best 151 yards on four catches. "I love our offense. I love blocking when we're running the ball. We've got great chemistry."
Lake Travis gained at least 10 yards on 19 different plays in the first-half alone. By contrast, Weslaco's longest play in the first half gained just eight yards. The Panthers managed only five plays that gained at least 10 yards on the day.
Weslaco got on the board in the third quarter when Devin Dena got behind the Lake Travis defense and caught a 59-yard touchdown pass from Rodney Garza.
Lake Travis got a second-half touchdown pass from sophomore Nate Yarnell to Lake McRee. Yarnell, who led the junior varsity team to a district title, made his first appearance with the varsity. He completed his first four passes, including a 45-yarder to Salvador Alanis.