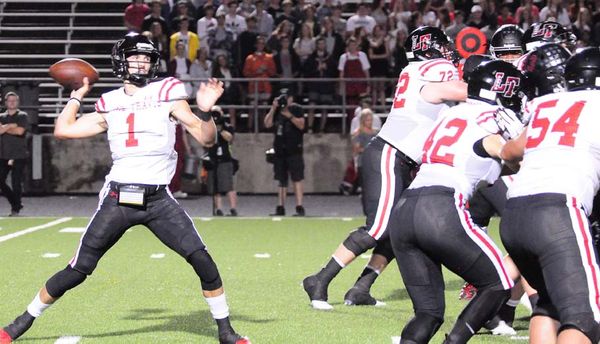 Cavaliers bury Bowie with first-half offensive onslaught
Garrett Wilson broke a decade-old school record and Lake Travis looked every bit the part of its No. 2 ranking in the Associated Press 6A rankings Friday night, beating Bowie 42-21 to open District 25-6A play.
Lake Travis (2-0, 1-0) scored touchdowns on all six of its first half possessions to open up a 42-7 lead before shutting things down for the night. With a 25-yard touchdown catch on the opening drive, Wilson became Lake Travis' career leader in touchdown receptions with 45, breaking the record set in 2005 by Fred Robinson. He said after two less-than-stellar performances, the offense wanted to make a statement.
"When you're playing, you want to send a message to everyone," he said after catching five passes for 172 yards and two scores. "We want to show that we're the best team in the district and I think we did that tonight."
Bowie (2-1, 0-1) answered Lake Travis' opening score with a touchdown run from quarterback Trinidad Sanders, but Lake Travis' defense made some adjustments and Bowie managed just 150 yards of offense after gaining 74 on their opening drive.
"Bowie had a great plan for their first drive," Lake Travis coach Hank Carter said after the game. "I'm proud of how Coach [defensive coordinator Ryan] Luedecke and the defensive staff got with the kids and were able to put the fire out."
When the Cavaliers have been at their best, opponents see their best chance of success in that opening drive.
"We've been doing this a long time," Carter said. "Most of the time, we know what to do. Getting the kids to go through that on the field and adjust can be pretty difficult, especially early in the season. The way the kids adjusted tonight was just fabulous. The sky's the limit for this group if we'll just keep getting better."
After struggling to find its rhythm against Arlington Martin and Mansfield Summit (albeit in a weather-delayed and cancelled game), Lake Travis' offense looked like it's familiar self against Bowie. On the five possessions after Bowie tied the game, Hudson Card threw touchdown passes to Kyle Eaves and Grayson Sandlin and added a 33-yard touchdown run. Wilson threw a touchdown pass to Sandlin after Max Foit recovered a Bowie fumble, and Card and Wilson closed the half with an 87-yard catch and run for the final touchdown.
"It felt awesome," Card said. "Everyone was excited to put that kind of half together."
Card finished with 337 yards and four touchdowns passing, both career highs, and added another 51 yards rushing. Eaves, Sandlin and Wilson each caught five passes. Sophomore Marcelo Alanis rushed for 99 yards on 15 carries, all in the second half as Lake Travis rested its starters, in his varsity debut.
Bowie scored a pair of late touchdowns to close the gap but dropped its fifth straight to Lake Travis since the teams began playing as district opponents in 2012. Lake Travis won that first game 24-14 but has since beaten Bowie, a perennial playoff team, by scores of 43-0, 64-7, 44-27 and now 42-21.
Bowie faced Lake Travis without star receiver Elijah Higgins, who's recovering from preseason surgery on his left wrist. Sanders, who missed part of last season with a knee injury, suffered another apparent leg injury in the third quarter. He had to be helped off the field and didn't return.
Notes: Wilson's second touchdown gave him 46 touchdown career catches. He also holds the school record for most receiving touchdowns in a season (27). He also ranks highly on other season and career lists:
Career receptions: 3rd (168)
Career receiving yards: 3rd (2,807)
Career TD catches: 3rd (50)
Single season receptions: 3rd (96 in 2017)
Single season receiving yards: (1,764 in 2017)
Single season TDs: 3rd (31 in 2017)