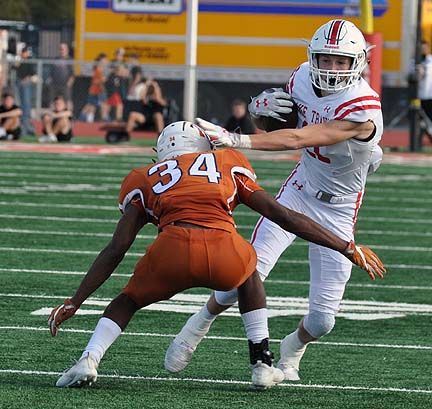 Cavaliers score with efficiency to knock Madison out of playoffs again
Originally published Nov. 23 in the Austin American-Statesman.
New Braunfels – Garrett Wilson's three second-quarter touchdowns helped Lake Travis (10-1) pull away from San Antonio Madison (9-3) for a 56-35 win in a 6A, Division I, Area playoff game at New Braunfels Canyon High School.
Wilson ran for a touchdown and caught scoring passes from Peyton Janecek and Hudson Card as Lake Travis took a 35-14 halftime lead that grew to 56-14 in the third quarter. It's the third straight year Lake Travis has knocked Madison out of the playoffs.
"For the most part our offense was very explosive," Lake Travis coach Hank Carter said. "Our number one offense was fantastic outside of the last series of the first half."
Wilson caught 12 passes for 165 yards and two touchdowns. Card completed 20 of 25 passes for 206 yards and two touchdowns and added 57 yards rushing and another score.
Lake Travis took a quick 14-0 lead by forcing two quick Madison punts. Hunter Henry sacked Madison quarterback Dante Heaggans, forcing a punt that traveled just five yards. On Lake Travis' first offensive play, Card ran through the Madison defense for a 28-yard score.
After a 14-yard punt, the Cavaliers quickly drove 40 yards, capped by a Card touchdown pass to Weston Stephens.
"We were able to get a couple of stops in the first half and our offense was doing a nice job," Carter said. "It's great. We're moving on and we've got another week to keep getting better."
After Madison closed within 21-14 in the second quarter on a 9-yard touchdown pass from Dante Heaggans to Christian Hernandez, the Cavaliers pulled away. Wilson got behind the Madison defense on a trick play, catching a 39-yard pass from Janecek after he caught a lateral from Card. After forcing a quick Madison punt, Wilson capped a 67-yard drive with a 14-yard pass from Card. Each of Lake Travis' first five drives ended with a touchdown.
"We were just trying to score on every possession and that's what we were doing," Wilson said. "Our defense was getting us stops, so we knew that was our chance to pull away. Hudson wasn't missing. When he's doing that, it's pretty easy."
Leading 35-14 at the half, Lake Travis pulled away using its ground game. Stephens broke free for a 62-yard touchdown run, and Sean Brown-Nixon added a pair of short touchdown runs as the lead grew to 56-14 late in the third quarter. Stephens and Brown-Nixon combined with Card to power the Cavaliers to 222 rushing yards on the day.
Lake Travis' defense kept the elusive Heaggans in check early. Though he finished with 142 yards and four touchdowns rushing and 141 yards passing with another score, much of his damage came in the fourth quarter. He gained just 13 yards on 14 carries as Lake Travis built its big lead.
"At times today we did a nice job dealing with their elusive quarterback," Carter said.
Lake Travis faces Weslaco in the regional semifinals. The teams will meet on Saturday, Dec. 1 at 4 p.m. in San Antonio's Alamodome.