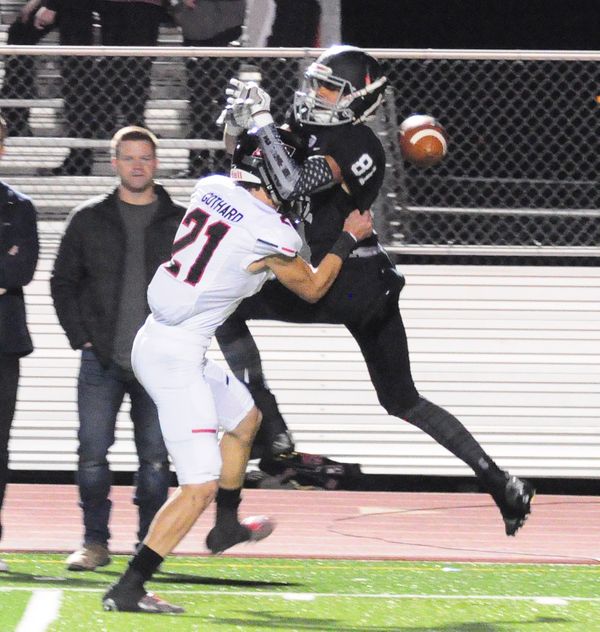 Cavaliers top American-Statesman's preseason top 10
Originally published by the American-Statesman/Lake Travis View.
No. 1 Lake Travis
Coach: Hank Carter (104-13, 9th season)
2017: 13-3, Class 6A, Division I state finalist
Hello: WR Garrett Wilson, QB Hudson Card, DT Kaleb Wenson
Goodbye: QB Matthew Baldwin, DB Nathan Parodi, DL Kade Langston
Returning starters: 5 offense, 4 defense
2017 stats: Averaged 44.3 ppg, allowed 22.3 ppg.
QUESTIONS TO PONDER
1. Allen ran over Lake Travis' defensive front to close out last year's 6A, DI title game. Will the Cavaliers be stronger up front in 2018?
2. Can Texas commitment Hudson Card continue Lake Travis' quarterback pipeline?
3. Who replaces three-year starting kicker Cameron Dicker? The all-state selection is now kicking across town as a Longhorn.
CATCH BEFORE YOU THROW
A cradle of quarterbacks, Lake Travis has produced plenty of high-quality receivers as well. Rather than have young quarterbacks stay on the sideline behind experienced starters, Lake Travis often plays them at receiver. Starting quarterback Hudson Card put together an all-state season at receiver last season and said it's an advantage to see the game from both spots. "I get two perspectives on things now. I know how I see things as a receiver and how I'd read each play," he said. "That really helps me as a quarterback." The plan works the other way, too. Ohio State-bound receiver Garrett Wilson previewed his game-changing ability while serving as a quarterback on one of the Cavaliers' freshman teams in 2015 before joining the varsity late in the season as a receiver.
HE CAN COVER, TOO
Wilson turns plenty of heads with his big-play ability catching passes, but he also emerged as a lockdown cornerback when called upon by his coaches. In last season's second-round playoff win over Converse Judson, Wilson scored three touchdowns on offense and played the bulk of the game on defense. What's more fun: making a big play on offense or defense? "Big play on D," Wilson said. "I'm not supposed to be out there, so I really enjoy making plays out there." He intercepted three passes last season and held Allen five-star receiver Theo Wease to just three catches in the title game.
A FAMILIAR NAME
Senior running back Sean Brown-Nixon has turned heads in the Lake Travis backfield during preseason, staking his claim to the starting spot. Brown-Nixon's name should be familiar to Cavs followers: older brothers Shaun (2011) and Aaron (2016) played on state championship teams.
DID YOU KNOW?
Battle of the Lakes? Try state championship qualifier. Since Lake Travis and Westlake kicked off their rivalry in 2006, the teams have combined to play in 11 state championship games in the 12 years. Lake Travis is responsible for eight of those appearances (2007-11, 2015-17). Westlake reached the title game in 2006. Both teams reached their title games in 2009 and 2015. Lake Travis has won six of its eight title game appearances. Westlake has come up frustratingly short in its three appearances, including two overtime losses.
OUR TAKE
Can Lake Travis make a fourth straight title appearance and avenge last season's loss to preseason favorite Allen?
Rick Cantu: Expect Lake Travis to win it all. Perhaps with an unbeaten record.
Thomas Jones: Yes. The Cavs would have beaten Allen last season if QB Matthew Baldwin had avoided injury and Hudson Card had stayed at receiver. No pressure, Lake Travis, but make room for the seventh star on your helmet.
PAST THREE SEASONS
2017 (13-3): Lake Travis proves the big boys don't rebuild; they reload while making a surprising run to their third straight 6A title game.
2016 (15-1): With nine seniors who'd sign to play FBS football, Lake Travis regroups after an opening loss and rolls to its first 6A title.
2015 (15-1): The immovable object trumps the irresistible force. Katy's record-setting defense ends high-scoring Lake Travis' dream run in the 6A, Division II title game.
RANKINGS IN REVIEW