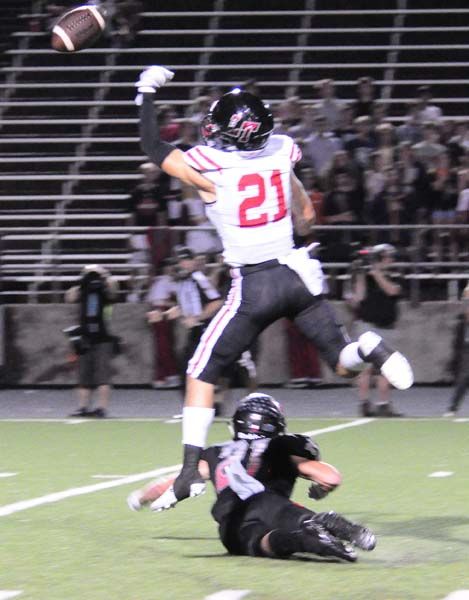 Cornerbacks will take center stage as Cavaliers face pass-happy Maroons
In the season's fifth week, Lake Travis' defense, especially a secondary that features four new starters, faces its most dynamic test. At least from an opponent.
If Austin High's offensive line can give quarterback Charles Wright the time on Friday, he'll throw the ball all over House Park. Despite last week's 57-0 loss at Westlake, the Maroons' quarterback leads Central Texas with more than 1,100 passing yards with 11 touchdowns.
"What I love about him is that he's tough," said Austin High coach Mike Rosenthal. "He shows up every day and works his butt off. He wants to be really good at football and I think he's got Division I talent."
Only a sophomore, Wright has flourished early in the Maroons' spread offense, getting the ball to whoever beats the coverage. Receivers Sawyer Berry, Ben Koch and Colby Kalbacher all have more than 20 catches on the season, combining for 67 catches including seven touchdowns.
"I think they threw 47 passes against Westlake," said Lake Travis cornerback Max Foit. "I think that will be fun for our secondary in general, to see if we can get a chance to get some picks."
Through four weeks, Foit and his defensive teammates have intercepted just two passes, but they've held opposing quarterbacks to only a 41 percent completion rate. The Cavaliers haven't allowed a touchdown pass yet. While opponents haven't featured their passing attacks, everyone associated with the Lake Travis defense expects that to change.
"Yeah, they throw the ball a little bit," Cavaliers' coach Hank Carter said. "We've covered very well at times this year, but that's why this will be a good test for us. We haven't played a team yet whose number one goal is to come out and throw the football."
Akins became the first team to complete 50 percent of its passes against Lake Travis' defense. Carter said despite the 51-13 win, the Cavaliers didn't live up to their own high standards.
"I'm not trying to be the bitter old football coach," Carter said. "We didn't play to our standards on either side of the ball. The kids know it. We have to play and execute at a higher level, especially as the teams we play get more and more talented. We need to do things exactly right, not just kinda right."
Carter expects the defensive line and linebackers to be in the proper gap and take the right path to the ball. In the secondary, executing means more than simply covering a receiver.
"I expect to see us execute, and it's not just covering," Carter said. "It's in the screen game. It's helping against the run. Cover your guy, obviously, and compete for the ball. But how we take on blocks and how we fit depending on the type of running play we're facing, that's an important part of it too."
Carter's message isn't new, but it was reinforced following last week's game against Akins.
"We need to work on triggering a little faster against the quick game," Foit said. "Caging on the screens, getting a little more aggressive. I think we've tended to lack a little bit on that but we're working on it."
The Maroons want Wright to get rid of the ball quickly to offset pressure that Lake Travis might bring. Gothard, the only returning starter, said early play recognition will be important.
"Knowing where they are on the field and knowing the down and distance, knowing if I have to trigger fast or not, that's the key," he said.
While Lake Travis hasn't seen an opponent who wants to throw the ball, the is no stranger to practicing against the pass. Every day, Lake Travis' defensive backs work against a group that includes one of the nation's top receivers in Garret Wilson and another FBS quarterback.
"We have great receivers and it's nice going against them," said sophomore Aidan Nava, who serves as the Cavaliers' nickel corner. "We go into games like this one very well prepared. Going against a great quarterback like Hudson Card every day also prepares us for the game."
Kyle Eaves, Jojo Patterson and Grayson Sandlin also give the defense plenty to practice against.
"Kyle is really quick so I have to stay on my toes," Gothard said. "Jojo and Gray are both taller than me. If they get a jump ball, I have to play through their hands to knock it away."
Both Berry and Koch will be taller than anyone in Lake Travis' secondary, so Gothard knows he'll be in for a challenge if Wright puts the ball up high. After starting for much of 2017, Gothard knows what to expect.
"Going to state and playing all of these teams that had great receivers really gave me the confidence to be able to go against all of the receivers we will see this year," he said.