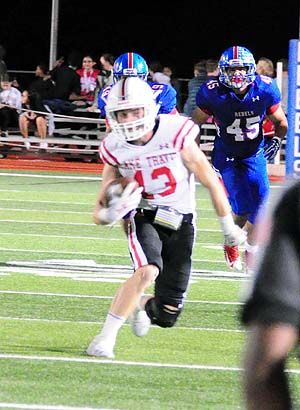 DeNisio, Janecek among players to step up as injury bug hits receiver group hard
Lake Travis began the 2018 regular season by displaying its depth at running back. The Cavaliers will close the regular season showing off their depth at receiver.
Running back Sean Brown-Nixon rushed for 103 yards in the season-opener before suffering a broken foot and hasn't played since. Over the last few weeks, receivers Garrett Wilson, Grayson Sandlin and Reid Donegan have all missed time due to injury.
While Brown-Nixon could return for the Cavaliers' regular season finale against Anderson, Wilson, Sandlin and a few other players likely won't play. Their absence gives other Cavaliers one more chance to step up and contribute.
"We're very fortunate to have the depth that we do at receiver and at running back because we're banged up at receiver and we're banged up at tight end," Cavaliers coach Hank Carter said.
Sophomores Weston Stephens (453 yards rushing, 8 TDs) and Marcelo Alanis (402, 1 TD rushing) stepped in after Brown-Nixon's injury. With Wilson and Sandlin sidelined, the Cavaliers have seen other receivers step into more prominent roles.
Kyle Eaves leads the team with 42 catches for 600 yards, but Jeremiah Patterson (16 catches), Cortland DeNisio (12 catches, including eight in the last four weeks) and backup quarterback Peyton Janecek (eight catches, all in the last two weeks) have made their mark as well.
"We knew we had depth at that position, and somewhat unfortunately, we're utilizing it to its full potential right now," Carter said.
DeNisio, a senior, relishes the opportunity he's getting to help his team.
"I've been working at this for a long time," he said. "I want to take advantage of every opportunity I have to help this team. I'm putting it all out there on every single play and I'm going to keep doing that while I can."
With Wilson out against Lehman last month, DeNisio stepped into the starting lineup and caught three passes, two for touchdowns. The early success helped his confidence, and he's been a consistent presence in the passing game ever since.
"Just getting the targets, being able to catch it and then to be able to run upfield and not just be a possession receiver," he said. "Being able to make something happen after the catch was a huge confidence booster for me."
Janecek made a key play in the season opener against Arlington Martin, stepping in when quarterback Hudson card momentarily came out of the game. His 37-yard completion to Eaves led to a key Cavalier touchdown, but his playing time had been limited to mop-up duty or punt returns since. Then Wilson, Sandlin and Reid Donegan came down with injuries, and coaches approached the athletic quarterback with a plan.
"I'm glad to do it," he said. "I'm really excited to help the team. It started about three weeks ago. It wasn't too serious but then they started talking about moving me into that role during the bye week."
Against Del Valle, Janecek found himself in the regular rotation and hauled in his first touchdown catch, a nifty grab of a Card pass on a route that took him to the corner of the end zone.
"That was my first game playing receiver and there was a corner route I caught for a touchdown that was a big confidence booster," he said.
Last week at Hays, Janecek caught five more passes and another touchdown to boot. He caught passes against tight coverage and found holes in the coverage as well. His experience at quarterback helped him adjust to the new role quickly.
"I know what I'd be looking for as a quarterback, so I'm just trying to get there as a receiver," he said. "That helps a lot."
While he'd surely like to get Wilson, Sandlin and the cadre of other injured players back in the lineup for a playoff run, Carter's thrilled more players are stepping up when called upon.
"Down the road, as we continue the season, this experience is going to be important," Carter said. "At some point these guys are going to continue to be called on to make plays and to know what they're doing so the offense can play on schedule."
They'll be ready, DeNisio said.
"It will be great having Garrett and Gray come back because they are obviously a big part of this team," DeNisio said. "I just want to be as reliable as possible and play the role they need me to play. If that's catching two passes in a game, that's what it is, or maybe it's six or seven. I just want to be able to fit where I need to fit."