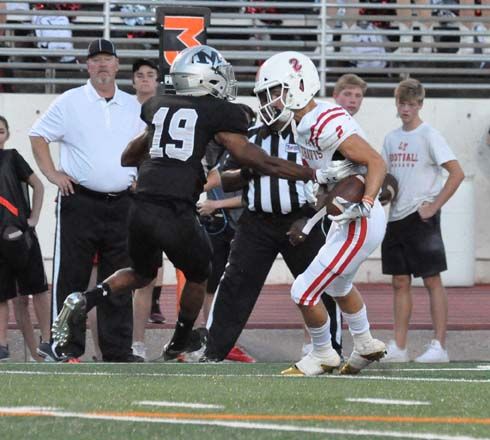 Eaves makes most of return to receiver
Lake Travis wide receivers coach Curtis Clay gave Jeremiah Patterson, Grayson Sandlin and Kyle Eaves a simple task before Friday night's game: win the one-on-one matchups they figured to see as Arlington Martin's defense focused on standout Garrett Wilson.
"Coach Clay always tells us that we will be in one-on-one matchups and we will have to win those," said Eaves, who won two key one-on-one matchups with Martin defensive backs during a 7-catch, 121-yard night.
After Wilson grabbed six first half passes from Hudson Card – including two for touchdowns – the Warriors redoubled their focus on the Ohio State-bound senior, leaving Clay's prediction to come true. With all defensive eyes focused on Wilson, Eaves made the Cavaliers' two most significant catches in the second half.
The first, a 37-yard grab from backup quarterback Peyton Janecek, set up Sean Brown-Nixon's response after Martin had scored to cut Lake Travis' lead to 20-14. The second, a 42-yard streak up the seam, closed the scoring in the 35-14 win.
"It was really exciting getting into the end zone again," Eaves said. "Hudson and Peyton put great balls on me…I have to give them credit."
Eaves' return to the end zone coincided with his return to offense. After starting the 2017 season opener against Converse Judson as a receiver, coaches moved the then-sophomore to defense, and he developed into a reliable corner, evidenced by two post-season interceptions, including one he returned for a touchdown against Allen to give Lake Travis its only lead of the title game.
"I'm very happy to be back on offense," Eaves said. "I loved defense as well…the coaches really made me love it, but…"
A receiver at heart, Eaves moved back to the offense during the spring began catching passes like he'd never left, thanks to extra attention from Clay and new offensive coordinator Will Stein.
"The coaches have really helped me out," Eaves said. "Coach Stein does a great job and he's helped me a lot, studying plays and working on things. That's been a huge confidence booster. The best feeling was getting the chance to finally play in week 1."
He made the most of his chance. Midway through the third quarter, Lake Travis clung to a 20-14 lead, and Card briefly left the game after scrambling for an 18-yard gain that saw him take an awkward fall on the Martin sideline. Janecek stepped in and delivered a strike to Eaves for a 37-yard gain. Brown-Nixon bulled his way into the end zone two plays later and the Cavaliers had breathing room.
On the first play of the final quarter – after the Cavaliers had spent the majority of the second half leaning on Brown-Nixon and Weston Stephens to run the ball -- Eaves got behind the coverage and took a pass from Card in stride for his first offensive touchdown.
"If we can run the ball, then defenses have to respect the run and that gives us more room," he said. "And Hudson throws a great ball. That's what happened on the touchdown."