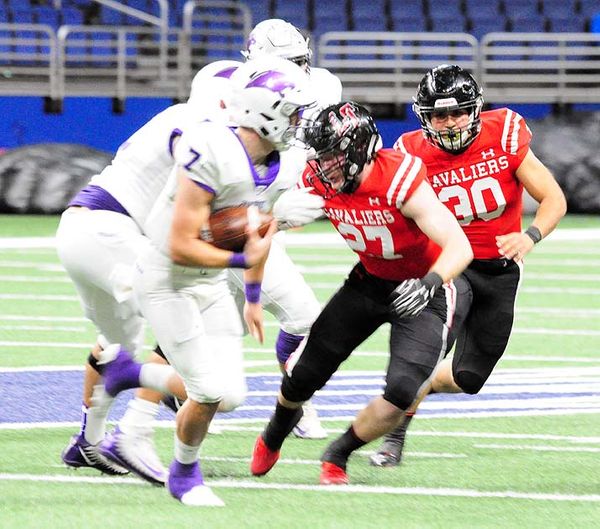 Improving each week, Lake Travis' defense looks to derail Judson's explosive offense
With a cold rain blanketing Central Texas Friday evening, Lake Travis coach Hank Carter rested as peacefully as possible on the night before his team's biggest game, confident in at least one thing about Saturday's 6A, Division I state quarterfinal.
The Cavaliers will technically be the visiting team against Converse Judson when the teams meet at 2 p.m. in the Alamodome. That means a few logistical changes from last week, and Judson's proximity will surely bring a large, enthusiastic crowd intent on seeing the home team topple the Cavaliers, but Carter's not worried, at least about the surroundings.
"It will be louder than it was a week ago, a bigger crowd," Carter said. "We'll be in a different locker room and on the other side of the field. But we will be nice and cozy inside with no wind, so it will be great."
Carter's rest has been slightly less comfortable as he thinks about the challenge of knocking Judson from the playoffs for the second consecutive season. He didn't need to look at film of Judson's 2018 season to understand the task at hand.
"We are pretty familiar with them and they are of us after playing them twice last year and playing them in past years." Carter said.
As they did a year ago with Julon Williams and a host of talented playmakers in the backfield and at receiver, the Rockets will attack Lake Travis' defense with the running game in order to set up the pass. While Williams graduated, newcomer Mike Chandler II has stepped in at quarterback and produced a season that Williams, now at Houston after producing nearly 6,000 total yards and 68 touchdowns in his career, can appreciate.
Chandler's passed for nearly 2,400 yards and rushed for another 773. He's thrown 24 touchdown passes and just one interception while adding another 12 touchdowns on the ground. Like Williams before him, he has Lake Travis' full attention.
"Their quarterback is a good player," Carter said. "He makes plays with his feet, he's elusive."
While he's been effective, he's not quite as explosive as Williams, who gave Lake Travis' defense nightmares in three games by amassing 1,171 combined rushing and passing yards.
"The quarterback is pretty fast, but I think Julon was a little faster," said Lake Travis linebacker Maui Trevino, who played a key role in helping slow Williams just enough to help the Cavaliers earn a 47-39 win in last year's Area Playoff.
Chandler is part of a one-two Rockets' punch with four-year starter Sincere McCormick, who's rushed for nearly 1,400 yards and 21 touchdowns. Like Williams, he gave the Cavaliers all they could handle a year ago, topping the 100-yard mark in both games.
"The running back was there last year and he's pretty good," Trevino said. "He'll be one of their main guys that we've got to stop."
While the Cavaliers haven't faced an offense with Judson's firepower in the playoffs, they've been quite effective in limiting opposing offenses. The starting defense has allowed just 9.3 points per game while it's been on the field.
"Our kids are understanding how we are wanting to play certain plays and doing a nice job of that," Carter said of his defense. "We can still get better, obviously, and this will be our toughest test to date with these guys, but I think our guys are playing with a lot of confidence right now. They are locked in and I like that. Our kids are excited about the challenge."
Led by defensive tackle Kaleb Wenson, linebackers Trevino and Nick Villareal and defensive end Matthew Peterman, the Lake Travis defense has regrouped after allowing 37 points against Westlake in a 44-14 loss on Oct. 12. Peterman has shaken off a leg injury to get past the rust of missing last season with a different injury and learning a new position, moving from linebacker at the coaching staff's request.
"Matthew Peterman came into this year having never played defensive end," Carter said. "He's been player of the week defensively for us several times in the last month. He's playing fast."
The coaches honored Peterman following his 12-tackle performance against San Antonio Madison two weeks ago, and the senior continues to bolster a defense that's done what's been necessary since that night at Chaparral Stadium.
"I think we're finishing plays very well," he said. "We are swarming to the ball and that's the way it's supposed to be defensively."
He knows more of that will be required if the Cavaliers plan on slowing McCormick, Chandler and the rest of Judson's offense, which has averaged 60 points per game in three playoff wins. Stopping the run and forcing the Rockets to throw the ball will be the Cavaliers' first task.
"They have a strong running game so we'll have to make sure that we fit in our gaps and play where we're supposed to play with our responsibilities," Peterman said. "If we do that, I feel like we'll have a good shot at slowing them down or stopping them."