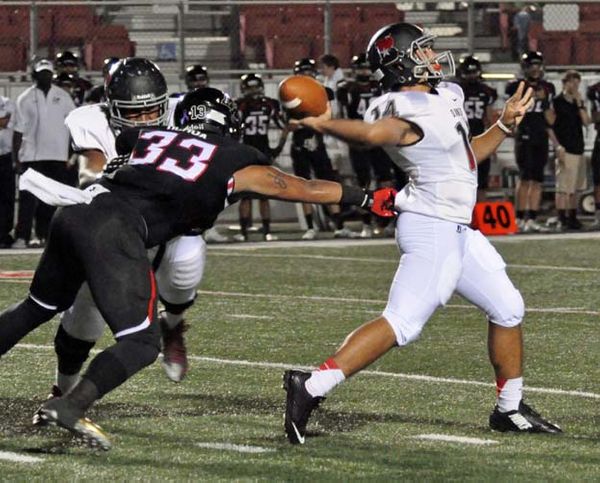 Lake Travis faces stern test to open District 25-6A play
Thanks to Mother Nature, Lake Travis' final non-district tune-up was cut short last Friday night. The Cavaliers open District 25-6A play on Sept. 14 against a Bowie team looking to do something it hasn't before.
Despite all the success the school has had in Jeff Ables' tenure (115-66), Bowie (2-0) still seeks its first win over Lake Travis (1-0). The teams have met four times since Lake Travis moved into the state's highest classification. Despite the previous success, Lake Travis coach Hank Carter knows nothing is guaranteed, especially given that his team didn't get all of the non-district work it had hoped against an athletic Mansfield Summit team.
"I wish we had another half to play against them and get better," he said. "We'll work with what we got and go get ready for a very tough Bowie team."
Does playing a top-tier opponent make the Cavaliers change their preparation?
"To be honest, it doesn't matter," Carter said. "There is definitely some heightened urgency on our part, but it also feels like the first two weeks because we played two good football teams already. Hopefully our non-district has gotten us ready for that."
Bowie standout receiver Elijah Higgins hasn't played yet this season as he tries to recover from a hand injury and likely won't play Friday. Even without him, the Dawgs still boast plenty of talented players that have the attention of Lake Travis' players and coaches.
"They've got good skill players," Carter said. "Defensively they have some personnel that can cause us some problems and they always play extremely hard. They look like a really, really good football team to me."
Like Lake Travis quarterback Hudson Card, Bowie's Trinidad Sanders has found his niche after moving over from receiver. Unlike his counterpart, Sanders got a jump-start on quarterback when he was forced into the role permanently last year. As a sophomore, Sanders passed for more than 900 yards and ran for nearly 700 more to earn offensive newcomer of the year honors in District 14-6A.
Sanders picked up where he left off in 2018, leading Bowie to a pair of non-district wins over Pflugerville and San Antonio Madison. The Dawgs have averaged 47 points in the two wins. He passed for 121 yards and rushed for another 104 in the win over Pflugerville.
Running back/defensive back Terance Durst and lineman Cooper Laake each star on both sides of the ball. Durst proved particularly difficult for Madison, rushing for one score and returning a kickoff for another while making seven tackles. While Bowie wants to run the ball – Kyle Carter will see his share of carries as well -- Sanders has a talented group of receivers that includes Jackson Lord, Cade Foradory and Jayden York.
Ground Cavs: Lake Travis' offensive line, playing without projected starter Andrew Salem for the first two weeks, has had its struggles protecting Card, but the Cavaliers have been able to run the ball more effectively than they did for much of last season.
Senior Sean Brown-Nixon rushed for 100 yards and two scores before injuring his foot in the opener against Arlington Martin. With Brown-Nixon out, sophomore Weston Stephens stepped in and had rushed for 55 yards before lightning ended Friday's game against Mansfield Summit before halftime.
"Weston has been a guy we felt would play a role for us, but with Sean running like he did, we thought he would be our third-down back," Carter said. "But with [Brown-Nixon] out for a while, Weston's been thrust into that primary role. He made some nice plays and he'll just keep getting better."
Carter's Cavaliers will likely try to establish the run early. Success will force the Dawgs to pay more attention to the run, freeing up space for either Garrett Wilson or one of Lake Travis' other receivers – Kyle Eaves, Grayson Sandlin, Jeremiah Patterson and Cortland DeNisio – to get open for Card.
"If we can run the ball, then defenses have to respect the run and that gives us more room," Eaves said. "And Hudson throws a great ball."
Series History: LT leads 4-0