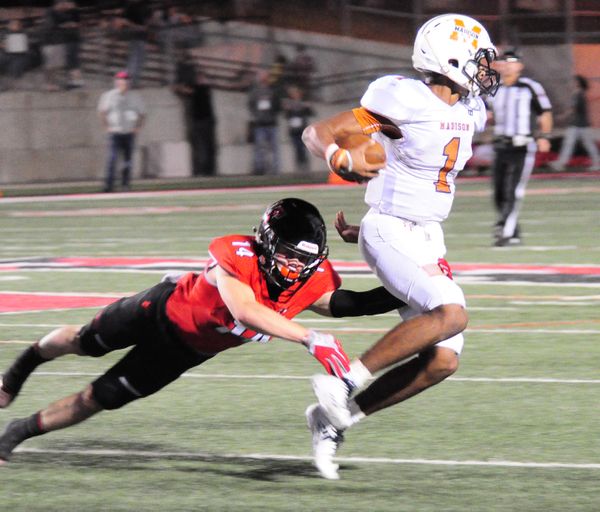 Madison hopes to continue one streak while ending another against Lake Travis
Another year, another playoff meeting between Lake Travis and San Antonio Madison.
After facing off in the Bi-District playoffs – both at Lake Travis – in each of the last two seasons, the Cavaliers and Mavericks will meet again, this time at Canyon High School in New Braunfels. While the Cavaliers own a pair of convincing wins (56-7 in 2016, 49-14 last year), Lake Travis coach Hank Carter sees a much-improved Madison team in 2018.
"It's a whole lot of the same kids and some similar things, but they are a year better, a year stronger and they are executing at a higher level," Carter said. "They've grown up a bunch in a year."
After a pair of non-district losses to open the season, the Mavericks have won nine straight, including a 17-14 win over Smithson Valley. The nine wins mark the most Madison's registered in a season since 2013 and will mark the school's first winning season since 2013.
Led by quarterback Dante Heaggans and a stingy defense, Madison roared through District 27-6A. In their five games since beating S.A. Reagan by 14, the Mavericks have won by an average of 35.4 points per game.
"They're good," Carter said. "They are really, really good football team. They are explosive, especially a the quarterback position. Really, at all of their skill positions, they have high-caliber athletes, really good 6A football players."
Heaggans makes the Mavericks go. The quarterback, who started last year's playoff loss to Lake Travis, has passed for 1,539 yards and rushed for an additional 1,186 and accounted for 31 touchdowns. Carter said the Mavericks rely on Heaggans much the same way that Westlake relies on Taylor Anderson.
"The quarterback is different than anyone we've seen this year, but they use him similarly to the way Westlake uses their quarterback," he said. "He's far and away their number one weapon and the guy they use to move the chains on offense. He's a dynamic player."
Christian Hernandez (873 rushing, 11 TDs) and Aydin Hoffman (486 receiving, 7 TDs) help him stretch the field.
While Madison brings a nine-game winning streak into Friday afternoon's game, Lake Travis brings momentum into the game as well, having won four straight while getting healthier by the week following the 45-14 win over Smithson Valley that saw senior receiver Garrett Wilson return from a back injury.
"It was great to have Garrett back," Carter said after Wilson caught six passes for 147 yards and a score. "It was great to see Seany [Brown-Nixon] out there running around making some plays. I like the direction we're going."
Lake Travis ran the ball effectively at times but beat Smithson Valley with big plays in the passing game – quarterback Hudson Card completed six passes that went for at least 20 yards, including a pair to tight end Lake McRee and a 75-yarder to Wilson.
Kyle Eaves, Cortland DeNisio and Jeremiah Patterson also made key plays in the passing game, and the receiving corps could get a boost Friday with the possible return of junior Grayson Sandlin, who hasn't played since before Lake Travis' game against Westlake on Oct. 12.
"We just have to keep surviving and advancing and I think – with Grayson being a possibility this weekend – we've got all of our weapons back," Carter said. "Now we just need to put it all together and really start getting better at what we're going to be able to do with this group of kids."
While Lake Travis hopes to continue to score – the Cavaliers have scored at least 44 points in each of their four straight wins – against a Madison defense that allowed more than 20 points just four times, Carter's focused on how Lake Travis' defense fares against Heaggins and the Mavericks' offense, which has scored at least 33 points in their last eight wins.
"On defense, first down is key," Carter said. "They want to run the ball. That sets up all of the other things that they do. We need to make sure that we make it hard on them to run the ball on early downs."
Smithson Valley gained 4.8 yards per first down against Lake Travis last week but only gained more than four yards on seven of 28 first-down snaps. While the Rangers also had a run-first quarterback in Levi Williams, Heaggans completes 60 percent of his passes while Williams completed less than 45 percent coming into last week's game.
Carter said the key will be for his defense to play with controlled aggression, keeping Heaggins from getting comfortable in the pocket and limiting his escape routes.
"A lot of teams will sit back when they play a quarterback that has this type of athleticism, but that doesn't really do any good either," Carter said. "We need to compress the pocket and make it uncomfortable and try to keep him in front of us at all times."
The Cavaliers kept Williams in check last week, led by defensive tackle Kaleb Wenson (15 tackles) and linebackers Maui Trevino (17 tackles) and Nick Villareal (13 tackles).
Series History; Lake Travis 2-0.
Last Meeting: 2017: LT 49, Madison 14 (Bi-District playoff)