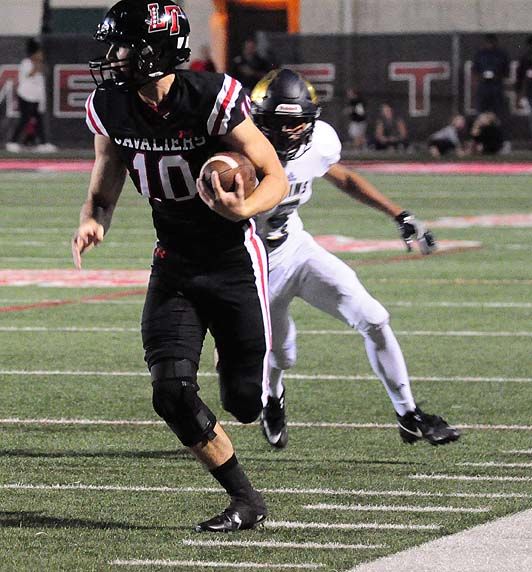 Offense continues to click as Cavs visit Austin High
Leave it to the basketball player to talk about his favorite assist.
Or in the case of Lake Travis' Garrett Wilson following Friday's 51-13 win over Akins, the assist that turned out not to be.
With the Cavaliers leading 44-7 in the second quarter and on offense again following Nick Villareal's interception, Lake Travis dipped into its bag of tricks. Working along the Akins sideline, Wilson ran a quick stop route and caught a pass from Hudson Card. As the Eagles' defense flew in to tackle him, Wilson pitched the ball to senior Reid Donegan, who'd made his way out of the backfield, ran past Wilson, caught the ball, and raced untouched into the end zone.
As Wilson and the rest of the Cavaliers raced to the end zone to celebrate Donegan's first touchdown, few noticed the penalty flag dropped at the line of scrimmage on the Cavaliers' sideline.
"I wanted that to count," Wilson said. "That was my favorite play of the whole game, but that got called back."
An illegal formation penalty wiped away the touchdown, one of only a few blemishes by the Cavaliers' offense.
"I thought our offense was great all night," said head coach Hank Carter.
The coach wasn't as pleased with the defense, which for the first time allowed an opponent to complete 50 percent of its passes (Akins completed 7 of 14 albeit for 93 yards) and gave up more than 100 yards rushing to quarterback Nick Cagle. All told, Akins gained 227 yards of offense.
"Defensively, we've got to be better than that," Carter said. "We were being undisciplined in the way that we played football tonight, and I don't mean in that we got a bunch of personal foul penalties (there were none). I mean we didn't line up and play our technique or play with great effort, playing with the proper pad level, diagnosing plays. We've just got to be better than that."
If the squeaky wheel gets the grease, expect Carter and defensive coordinator Ryan Luedecke to focus on the defense, which should face a more dynamic offense when it travels to House Park to face Austin High. Though the Maroons suffered a 57-0 shutout loss at Westlake last week, they've had their share of offensive success early on.
The Maroons averaged 46 points per game prior to facing Westlake and hope to rediscover what worked on Friday. Sophomore quarterback Charles Wright tops the area's 6A quarterbacks with 1,113 passing yards to go along with 11 touchdowns. He's added four more on the ground.
"A game like this is his chance to vault into the upper echelon," Austin High coach Mike Rosenthal said of Wright. "I think he's a Division I quarterback. What I love about him is that he's tough. He shows up every day and works his butt off. He wants to be really good at football."
The coach praised Wright's ability to stand in the pocket in the face of relentless pressure from Westlake's defense and expects he'll remain tough in the face of a Lake Travis defense eager to prove itself to its coaches.
"He was not overwhelmed by the moment," he said. "He played his butt off against Westlake. He just wants to win."
Receivers Sawyer Berry (24 catches, 298 yards, 2 TDs), Ben Koch (23-252-5) and Colby Kalbacher (20-254) have the key cogs in Austin's passing game.
Lake Travis (3-0, 2-0 in District 25-6A) and Austin High (2-2, 1-1) have met four times since they first became district foes in 2012. Lake Travis pulled out a 14-7 win in 2012 and since has dominated Mike Rosenthal's Maroons. The 2013, 2014 and 2015 games saw Lake Travis topple Austin High by an average of 61-6.
Rejoined as district foes after Austin High spent the last two seasons in Conference 5A, Rosenthal knows the series history and the challenge Lake Travis brings.
"We go from playing a top 10 team in the state to a top 2 team," he said. "The thing I really appreciate about playing Lake Travis is that they are not going to hold anything back. They are going to work on the things that they need to win in December and that's impressive."
Rosenthal's also impressed with what he's seen on film from the Cavaliers.
"Defensively, they don't blitz as much as Westlake did but they are still really good," he said. "Offensively, they are a nightmare to plan for. They have a lot of running backs, Hudson Card is really athletic and then there are the receivers. Garrett Wilson, he makes Super Mario Brothers moves."