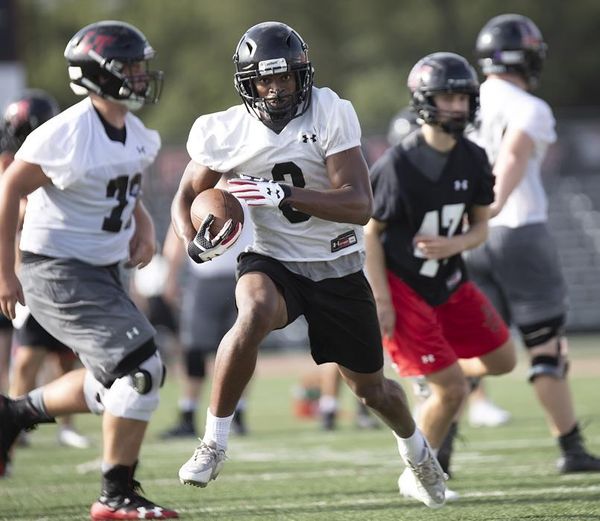 Offensive spotlight: RB Brown-Nixon continues family legacy for Cavaliers
Originally published Aug. 29 in the American-Statesman/Lake Travis View.
As he prepares to make his first start as Lake Travis' running back, Sean Brown-Nixon doesn't have to go far to find people who'll be happy to help him meet the challenge.
Brown-Nixon will be the third member of his family to carry the ball for the Cavaliers, and he's been relying on brothers Shaun and Aaron for advice leading up to the season.
"We talk about a lot," Sean said last week. "We'll drive around sometimes and I'm always asking them questions about how things were and what they did. I also ask them about what I can be doing better."
Oldest brother Shaun holds Lake Travis' single-season rushing record and ranks second on the all-time rushing list. Older brother Aaron played a little running back but spent the bulk of his last two seasons starting at defensive back. Sean will set his own bar for success and won't try to be either of his brothers.
"Seany doesn't get too wrapped up in those things," Lake Travis coach Hank Carter said. "He's got such a great spirit about him. He plays hard and gets after it. He's matured such a great deal and he's going to get his chance now."
Both older Nixons played key roles on state championship teams – Shaun in 2011; Aaron in 2016 – and Sean wants to benefit from their knowledge.
"Aaron, since he played corner, basically tells me how the defense is thinking about each play," Sean said. "He gives me a lot of insight, what he saw when he was playing. Varshaun, he gives me more advice about the offense. How to hit the hole, how to get skinny going through there, how to make sure I'm protecting the ball with my free arm."
Brown-Nixon played a handful of games with the varsity last season but never settled into a role as the Cavaliers made their run to the state championship game. He went to work immediately after the season to put himself into the mix, and the work has paid off.
"I think that Seany's got a chance to turn some heads," Carter said as the team began its preseason practices. "He's had a good summer. He did really well in the spring. He brings a physical component that we haven't had."
A more physical presence than both of his older brothers, Brown-Nixon said he simply didn't know plays well enough to contribute consistently mix as a junior.
"If I'm being honest with myself, it was about not knowing the plays as well," he said. "I'm confident in my ability, but I had trouble getting stuff down. I've been working very hard on getting all of the plays down pat so that when we get into that first game, it's all about execution."
Brown-Nixon may not have the breakaway ability his oldest brother showed, particularly during his senior season in which he led the Cavaliers to the state semifinals, but that's fine. In Garrett Wilson and Hudson Card, Lake Travis has plenty of big play potential.
The Cavaliers struggled, especially early last season, in short-yardage situations. Both Carter and offensive coordinator Will Stein want Brown-Nixon to get the tough yards when the situation calls for it. Throughout preseason practices, Brown-Nixon's shown coaches what they want to see.
"He's been a real bright spot and I love how he's been performing," Carter said.