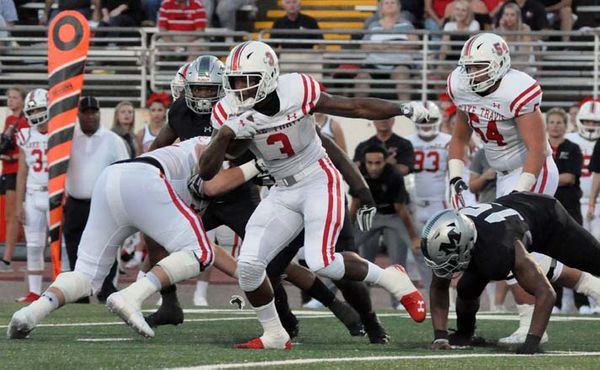 Pass-happy Cavaliers lean on running game to top Arlington Martin 35-14
Originally published in the Austin American-Statesman.
Known for its passing prowess, Lake Travis used its running game to break open a close game and top Arlington Martin 35-14 Friday night.
Sean Brown-Nixon rushed for a pair of third-quarter touchdowns to help the second-ranked Cavaliers (1-0) recover from a penalty-filled first half and pull away from Martin (0-1). Making his first start, Brown-Nixon rushed for 103 yards on 17 carries.
"I loved how we were able to play physical in the third quarter," Lake Travis coach Hank Carter said. "We've got to be able to play physical. To be honest, a year ago it took us half the season before we started playing physical football."
Though Hudson Card hit Garrett Wilson with a pair of first half touchdowns to build a 13-7 lead, he also suffered four sacks. Penalties, nine of them for 56 yards, also hampered the Cavaliers in the first half, along with Martin's persistent pass rush. Lake Travis adjusted, leaning on its rushing attack to gain 241 of its 400 total yards after the break.
After forcing Martin to punt to open the third quarter, Brown-Nixon went to work. He carried the ball five times on the next possession before finding a seam and splitting the defense for a 33-yard touchdown.
Montrell Smith gave Martin hope on the next play, bursting 77-yards for a score to cut Lake Travis' lead to 20-14, but the Cavaliers answered, once again leaning on Brown-Nixon. He logged another five carries helped the Cavaliers march 75 yards to reclaim momentum, with a 14-yard burst setting up his short touchdown to extend the lead out to 28-14. In all, he finished with four carries of 14 yards or longer. He rushed for just 91 yards in six games during the 2017 season.
Card finished with three touchdown passes – adding a 42-yarder to Kyle Eaves in the fourth quarter – and completed 20 of 28 passes for 237 yards. Wilson didn't catch a pass in the second half but finished with 6 catches for 90 yards.
Lake Travis also got a key completion from backup quarterback Peyton Janecek when Card went to the sideline briefly. His 37-yard connection to Eaves set up Brown-Nixon's second touchdown run. Eaves led Lake Travis with 7 catches for 121 yards to go with his touchdown.
Martin struggled against Lake Travis' aggressive defense throughout. The Warriors gained just 38 total yards in the first half and finished with 170. Smith led Arlington Martin's attack with 113 yards on 12 carries.