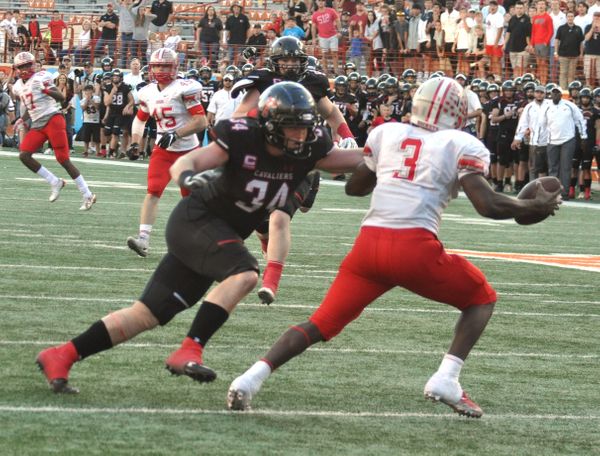 Quick kicks: Judson and Lake Travis prepare for sixth meeting
1st meeting: 2012: LT 47, Judson 13
Brief series recap
2017: twice as nice. Judson wins the season opener, putting a historic beating on Lake Travis' defense in a 65-45 win by gaining more than 700 yards of offense. Lake Travis wins the rematch, coming from behind to win a back-and-forth Area playoff game at Texas-Royal Memorial Stadium.
2016: Judson spoils Lake Travis' season-opener with a 35-28 win.
2013: In a defensive struggle, Judson earns a 25-19 win at Lake Travis to open the season.
2012: Baker Mayfield finds Zach Austin early and often as Lake Travis rolls in first game in top classification.
Titletown(s)
Between them, Lake Travis and Judson have claimed 12 state titles and played in 19 championship games. Both schools have won six titles. Judson's most recent title came in 2002 and its last title game appearance came in 2005. All six of Lake Travis' titles and all eight of their title game appearances have come since 2007, including the 2016 title.
Lofty rankings
Judson ended the regular season ranked third by both Dave Campbell's Texas Football and the Associated Press. The Rockets posted their first perfect regular season since 2004. Lake Travis finished the season ranked 10th by the AP and 11th by DCTF.
Swiss Army Knife
Senior running back/utility player Sincere McCormick leads the Judson attack. Lining up primarily at running back this season, McCormick's rushed for 1,396 yards with 21 touchdowns in 12 games. He's also caught eight passes for another 214 yards and a score. McCormick also handles the Rockets' punting duties, averaging 36 yards per punt with 10 that have pinned opponents inside the 20.
In years' past, McCormick has played linebacker and even a little quarterback. Last year he stepped in at quarterback in two games when starter Julon Williams was injured and completed 60 percent of his passes for 199 yards and three TDs. He made his first varsity appearance as a freshman and has amassed more than 3,900 combined rushing and receiving yards in his career with 48 career touchdowns. While he hasn't played any defense this season, he's also played in a handful of games as a linebacker.
Not missing a beat
Like Lake Travis, the Rockets are replacing a quarterback who earned an FBS school. While Matthew Baldwin is waiting his chance to play quarterback at Ohio State, Julon Williams went to Houston knowing he'd be switching from throwing passes to catching them.
Neither team has slowed down any. Hudson Card has stepped in at quarterback for Lake Travis and amassed 3,000 yards with 45 touchdowns passing to go along with nearly 600 rushing yards. Judson's Mike Chandler II has had similar success in his first season leading the Rockets. Chandler's passed for 2,369 yards with 24 touchdowns against just one interception and rushed for another 773 yards and 12 touchdowns. Chandler doesn't complete passes with the same accuracy as Card, but the Rockets don't often settle for short passes. Chandler averages 21.5 yards per completion.
Spotlight: In the Trenches
Lake Travis has faced its share of highly ranked defensive line recruits in key playoff games. Both Mario Edwards (Denton Ryan, 2010 – Florida State) and Ed Oliver (Spring Westfield, 2015-Houston) were rated among the top defensive line recruits nationally. Moro Ojomi (Katy, 2017-Texas) burst onto the radar later in his high school career. By using a team effort, the Cavaliers neutralized all three to earn key playoff wins.
"It's a collective effort," Lake Travis coach Hank Carter said of his team's strategy against blocking an elite defensive player. "Regardless of who's lined up over him – and this isn't about just one guy who gets all of the notoriety because they have a lot of really good football players up front – it's a team effort."
The Cavaliers also got a win over Judson and highly-recruited defensive lineman DeMarvin Leal (committed to Texas A&M), though Leal and the Rockets have also had success against Lake Travis, winning season-openers against the Cavaliers in both 2016 and 2017 before Lake Travis won a rematch in last season's Area playoffs.