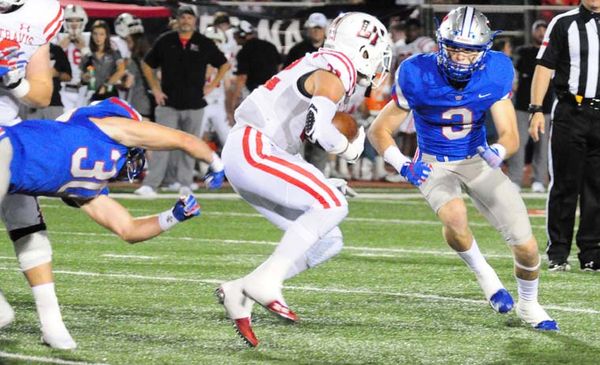 Scout's report spot on following Chaps' win over Cavs
Leading up to Oct. 12's Battle of the Lakes, we quizzed a District 25-6A coach about each team's keys to victory. Following Westlake's 44-14 domination of Lake Travis, how did the scouting report play out?
Spot on.
Our scout said: "[Westlake] defensive coordinator [Tony Salazar] is really good and I'm interested to see what he comes up with in this game."
Our scout said: "Lake Travis is a little more inexperienced up front than they have been. Westlake tends to tell you where they're coming from, so if Lake Travis can block that up…"
What happened:
In the games leading up to Friday's game, Salazar's Chaps had been blitz-heavy. In building a 20-7 halftime lead, Westlake opted to play things straight-forward. The Chaps didn't blitz Lake Travis quarterback Hudson Card, instead opting to spy him with linebacker Jake Ehlinger, minimizing Card's scrambling opportunities while devoting six defensive backs to cover Garrett Wilson, Kyle Eaves and Jeremiah Patterson.
Lake Travis' offensive line struggled to fend off a pass rush led by Westlake's David Neil and Trellis Collins. Westlake's front four pressured Card into his first two interceptions of the season (not counting two more interceptions wiped away by penalty).
"We have an intelligence of the game, a football IQ," Neil said. "And we have Coach Salazar. That guy is on another level when it comes to play calls. We knew what we wanted to do and nothing was going to stop us from doing it. Last year was the same thing."
Card entered the game completing almost 75 percent of his passes. Against Westlake, he completed just 16 of 31 for 140 yards. While he managed 75 yards rushing, 29 came on one play and the Cavaliers struggled to drive the ball all night.
Our scout said: "What do you do with Garrett [Wilson]? Do you double him up and try to take him away or let him get his numbers because he's done that anyway and try to stop everyone else?"
What happened:
Westlake didn't take Wilson out of the game, but the Chaps certainly minimized the 5-star receiver's impact. Wilson finished with seven catches for 75 yards and a touchdown and also returned a kickoff 100 yards for a score, so Westlake didn't take him out of the game. But aside from the 45-yard touchdown catch, Wilson's other six catches averaged just five yards. The Chaps also kept Eaves, Patterson and the rest of Lake Travis' receivers in check.
Our scout said: Westlake will win "if it wins the turnover battle."
What happened:
Westlake won the turnover battle 3-2.
Our scout said: Lake Travis will win "if they can make Westlake one dimensional and force them to throw the ball."
What happened:
Westlake remained two-dimensional and controlled play from the outset. Quarterback Taylor Anderson rushed for 176 of his team's 282 yards and added 150 yards through the air. For the second straight year, Anderson's running kept Lake Travis' defense on its heels. He scored two rushing touchdowns and passed for another.