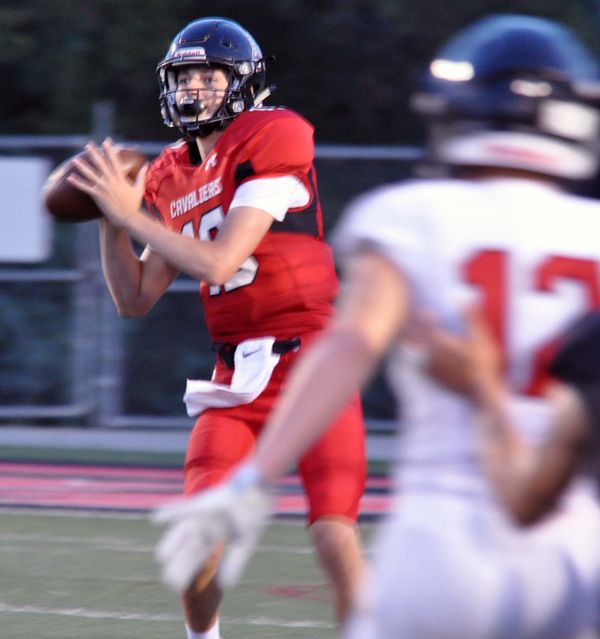 Sophomore Yarnell latest LT QB to receive FBS scholarship offer
Lake Travis' list of FBS-level quarterbacks continues to grow.
Last month junior Hudson Card committed to play at the University of Texas. Last week, sophomore Nate Yarnell received his first FBS offer from the University of Houston.
"I wasn't expecting it," Yarnell said. "I've dreamed about getting an offer, but I never thought it would happen so soon."
The quarterback had completed a day at the Cougars' football camp and started packing his things when head coach Major Applewhite asked him to wait for just a few minutes. While Applewhite finished up some other business, Yarnell visited with assistant coach Kendall Briles before Applewhite returned to make the offer.
"Coach Applewhite told me I am in a great place [Lake Travis] with a bright future and then he offered the scholarship," Yarnell recalled.
Yarnell knows he has a long way to go before he picks a college. He understands it may be some time before he can call himself Lake Travis' starting quarterback. With Card seemingly entrenched as the Cavaliers' quarterback for the next two seasons, offensive coordinator Will Stein's already told Yarnell he'll likely quarterback a junior varsity team in the fall.
"We want Nate to get a lot of game reps so he'll be ready if his number gets called," Stein said. "We have depth at that position so we don't have to rush anyone to the varsity."
Stein praised Yarnell's work ethic during spring practice and expects that to continue over the summer and into fall practice, where he'll work to get better every day alongside Card and Peyton Janecek, a junior.
"He's a really good young player," Stein said. "He's going to compete every day in practice and that will be good for Hudson, Peyton, everyone in that huddle."
With the 7on7 state championships on the immediate horizon, Yarnell will look to help the Cavaliers chase that title, then get to work on adding muscle to his lean frame. While he towers over the huddle at 6-foot-5, he weighs only 180 and hopes to put on another 20 pounds of muscle to prepare for the upcoming season.
"I just want to work on getting bigger and faster," he said.
With a quarterback entrenched ahead of him, Yarnell can look to recently graduated Matthew Baldwin as a path to follow. Baldwin quarterbacked the junior varsity as a sophomore and learned a great deal while backing up Charlie Brewer as a junior. When Baldwin earned the starting role for 2017, he wasted no time. He led the Cavaliers to their third straight 6A title game and earned a scholarship to Ohio State in the process.
"Matthew is a great quarterback and his position is very encouraging for me," Yarnell said. "I was really excited this spring to work with Hudson and Garrett [Wilson] and I'm excited to get to learn from Hudson moving forward."
"This is only the start for him," Stein said. "He's a high-energy guy and is super smart. He works hard every day and he can really throw it. Colleges want to get in on those types of guys early."
Every Lake Travis starting quarterback since 2004 has earned a scholarship to play Division I football, and to play for a school (or schools) in a Power 5 conference. Yarnell would become the ninth straight Cavalier signal-caller to make the growing list:
· Hudson Card (2018-19): Texas
· Matthew Baldwin (2017): Ohio State
· Charlie Brewer (2015-16): Baylor
· Dominic De Lira (2013-14): Iowa State (Texas Southern)
· Baker Mayfield (2011-12): Texas Tech (Oklahoma*)
· Michael Brewer (2009-10): Texas Tech (Virginia Tech)
· Garrett Gilbert (2006-08): Texas (SMU)
· Todd Reesing (2004-05): Kansas
Mayfield's journey is well-chronicled. Unsatisfied with the FBS offers he received, he opted to walk-on at Texas Tech and became the first true freshman walk-on to win the starting job at Division I school. After his freshman year, he transferred to Oklahoma, where he walked on again and won the job after sitting out his transfer season. He later earned his scholarship and went on to win the Heisman Trophy and become the first pick in the 2018 NFL Draft.
Versatile Colin Lagasse, who started four games at quarterback between 2010 and 2011, also earned a scholarship to SMU, but he never played quarterback in college. He played the majority of his games at Lake Travis as a defensive back or running back/receiver. He earned all-state honors as a safety in 2009, was the offensive MVP of the 2011 state title game and went to SMU as a receiver.