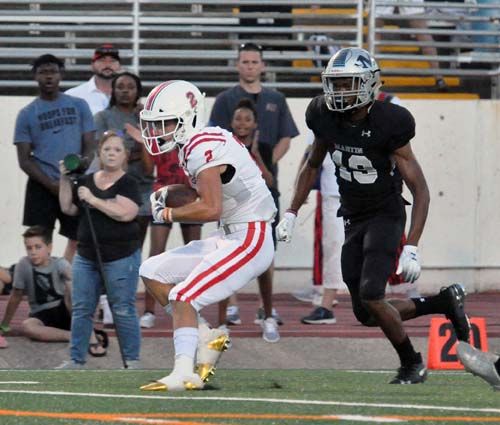 Three reasons Lake Travis beats Westlake
1: Lake Travis likes its revenge theme
Allen. Cedar Hill. Spring. Westlake.
Since Lake Travis made the jump to the state's highest classification, those are the four schools that can currently say that they came away victorious the last time they faced Lake Travis.
A&M Consolidated (2012), Pflugerville (2012), Katy (2015), Waco Midway (2015) and Katy (2016) each defeated Lake Travis once. Converse Judson (2013, 2016 and 2017) owned a three-game winning streak in their history. Within a year or two, however, Lake Travis had bounced back and can claim victory in the team's most recent meetings. Last year saw the Cavaliers avenge two of those losses: a 47-39 win over Judson in the Area Playoffs followed by a 28-14 win over Katy in the state semifinals.
Even before moving up to 6A, Lake Travis seldom let losses go unanswered. The 2010 season included a regular-season losses to both Aledo and Cedar Park. Lake Travis avenged the Cedar Park loss later that season, topping the Timberwolves in the 4A, Region IV championship game 21-20. The Cavaliers also won the return game at Aledo the following season, beating the Bearcats 62-35.
This year, the Cavaliers have their sights set on leveling their score with Allen – the teams can only meet in the state championship game, a meeting that's not guaranteed. But first comes Friday and a chance to avenge last year's 21-14 defeat.
"I was really mad to be on one of the teams that lost to Westlake," said Lake Travis senior receiver Garrett Wilson. "I think about it a lot. What happened last year is just motivation for me. I'm excited to play, to get back out there and get another chance at them before I go."
2: Big shoes to fill in the backfield
A key part of Westlake's path to success last year included a dual-threat rushing attack featuring Watson and quarterback Taylor Anderson. Nakia Watson's combination of strength to break tackles and speed to breakaway forced the Cavaliers to focus on him, giving the athletic Anderson plenty of running room when he kept the ball on the read-option plays.
Though he's nearly matched Watson with his first-half productivity – averaging 136 yards per game and nearly 9 yards per carry – Tripp Graham hasn't shown the same explosiveness. That's not to say he can't find success, but the types of running backs that give Lake Travis trouble possess that unique combination of skills: Watson, Allen's Brock Sturges, Katy's Deondrick Glass and Kyle Porter, Mansfield's Kennedy Brooks, Rockwall's Caleb Broach all had success running against Lake Travis' defense in recent years.
Unless Graham makes Lake Travis pay early, the Cavaliers can focus on keeping Anderson from breaking containment and potentially stifle the Chaps running game. In five full games, Lake Travis has allowed only 107 yards rushing on average.
"If Lake Travis can make Westlake one-dimensional and force them to throw the ball, they'll have a great chance to win," said a District 25-6A coach whose team has already played both Westlake and Lake Travis.
Though he passed for nearly 3,000 yards in 2017, Anderson's biggest struggle came against Lake Travis. It marked the only game in which he completed less than 50 percent of his passes and he threw three of his nine total interceptions.
3: Lake Travis' offense is (much) more than Garrett Wilson
New offensive coordinator Will Stein's primary mission has been to get the ball to his best players early and often, and it's no secret that means targeting Wilson, the 5-star senior receiver who'll head to Ohio State in January.
"My job is to get our best players the ball as often as we can, let them make people miss and go score touchdowns," Stein said in April, shortly after joining the Lake Travis staff.
And he's done that through six weeks. Wilson leads the team with 28 catches for 491 yards and 8 touchdowns, but quarterback Hudson Card hasn't been fixated on getting Wilson the ball. A dozen other Cavaliers have caught at least one pass, and six others have caught touchdown passes.
"We don't have to throw it to Garrett 40 or 50 times a game," said receiver Jeremiah Patterson, who starts opposite Wilson in the Cavaliers' 4-wide set. "We're a very versatile team with a lot of good receivers."
Patterson caught two touchdown passes in Wilson's absence last week against Lehman, as did Cortland DeNisio. Kyle Eaves and Grayson Sandlin, a pair of juniors, have also proven to be reliable targets for Card, combining for 40 catches and 8 TDs. Patterson averages 20 yards per catch. Eaves said each receiver knows he is likely to face single coverage as defenses try to limit the damage Wilson can do.
"Our whole group has great chemistry," Eaves said. "If we focus on winning our one-on-one matchups, that will make the defense focus on us a little bit more, and that will give Garrett better looks."
Safeties Sage Luther and Doak Wilson anchor the Chaps secondary along with rover Drew Webster. The trio will be pressed into more coverage duty in support of corners Leo Lowin and Peyton McDowell.