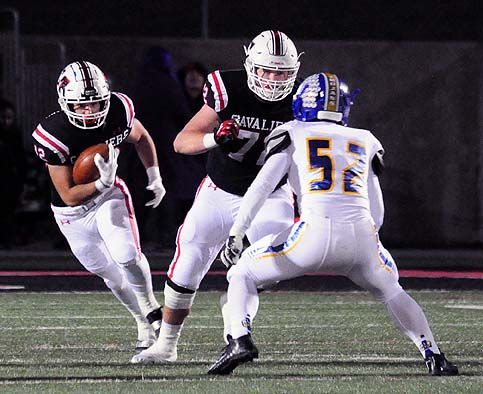 With offense healthy and clicking, protecting Card from Judson pass rush is Cavaliers' top priority
Lake Travis faces its toughest test of the season Saturday when it returns to San Antonio's Alamodome to face third-ranked Converse Judson with a state semifinal berth on the line.
"They look like they always look," Lake Travis coach Hank Carter said of the Rockets before the schools resume their rivalry in the 6A, Division I, Region IV championship game. "Really, really good."
Carter and the Cavaliers have become quite familiar with the Rockets. For that matter, the same holds true of Judson. Saturday's meeting marks the third consecutive season that the teams have played. In 2016 and 2017, the Region IV powers met to open the season – with Judson winning both games, including 65-45 last season.
The teams also met in the playoffs last year. In the 6A, Division I Area playoffs, Lake Travis rallied from a 26-14 deficit to knock Judson out of the playoffs with a 47-39 win at the University of Texas' Darrell K Royal-Texas Memorial Stadium.
This year's playoff meeting comes two rounds deeper in the playoffs, and both teams enter the game on rolls. Since beating Wagner 35-28 in the season's second week, Judson hasn't won a game by less than 26 points and has won its playoff games by an average of 60-17. Carter knows what the Rockets are capable of if his team doesn't play its best game.
"From what we see on film, they look a lot like they always look," Carter said. "Obviously they've won all of their games. They haven't really had a close ball game. Their front is very big and physical and their kids are running to the ball. They have a lot of playmakers offensively."
Lake Travis has its share of playmakers as well. Hudson Card, who had two big games against the Rockets as a receiver in 2017, has thrown 13 touchdown passes in three playoff games. Garrett Wilson, who missed four regular season games, is regaining his stride with 23 playoff catches, six for touchdowns. Kyle Eaves, Lake McRee and Weston Stephens have all caught multiple touchdown passes.
"They have some matchups where they'll have an advantage over us, but so do we," Carter said. "We need to be able to capitalize on that. It will come down to being able to protect Hudson and get the ball to our playmakers."
Judson's defensive line – and a slightly different strategy from years past – will make it a challenge for the Cavaliers to give Card the time he needs to get the ball to his playmakers. Lake Travis offensive lineman Chad Wolf knows the challenge his team faces.
"They are big once again," Wolf said of the Rockets' line anchored by 5-star recruit DeMarvin Leal. "That's always the big thing with them with DeMarvin and the big nose guard [Daniel Williams] who moved in from Clemens. They have some big guys on their side. We're definitely feeling confident about it, though."
Finally healthy after suffering a rash of injuries throughout the season, Carter has enjoyed seeing his offense get unleashed in the last few weeks.
"I think we finally got a chance to see what the 2018 Lake Travis offense can look like," he said, knowing another big week will be tough to come by given the playmakers on Judson's defense. Blocking Leal and Williams may be the top priority, Kevin Wood, Rashad Wisdom and a host of other players can wreck Lake Travis' offensive rhythm.
"If we focus just on [Leal], it's going to be a long day for us," Carter said. "We've got to do a great job of playing well as an offensive unit against what they are doing defensively."
Wolf understands that he and his offensive linemates – guards Dawson Weiss and Andrew Salem, center Payton Maxwell and tackle Todd Moon, have to leave their mark on the game.
"They are blitzing a lot more than they did last year," Wolf said. "They are bringing their linebackers and using a lot of edge pressures with some weird blitzes that they do as well to try and trick us. We'll definitely be ready for them."
Both Wolf and Carter also know that the Rockets' defense will give Lake Travis its toughest test since October, when the Cavaliers suffered their only loss.
"That wasn't a great night at all for us.," Wolf said of Lake Travis' 44-14 loss to Westlake. "We just have to come out and show what we can do. We've improved a lot since the Westlake game. We've come together as a unit. We are one big family and we're going to go out there and give the best that we've got."
Other than the success Westlake's defensive front had against Lake Travis, Carter doesn't see many similarities between the Chaps and Rockets. He just knows his team must do a better job than it did protecting Card on that October night.
"It sounds like a good storyline but it's different," Carter said. "Judson pressures a little more than they did a year ago, but they don't pressure the same way Westlake did and their coverage scheme is different.
"They have some physical specimens up front who can create problems for us, and we'll have a plan for those guys," he continued. "We've got to be able to execute our offense and we've been able to do that the last few weeks. This will be a new test but we'll see. Our kids are very excited about it."