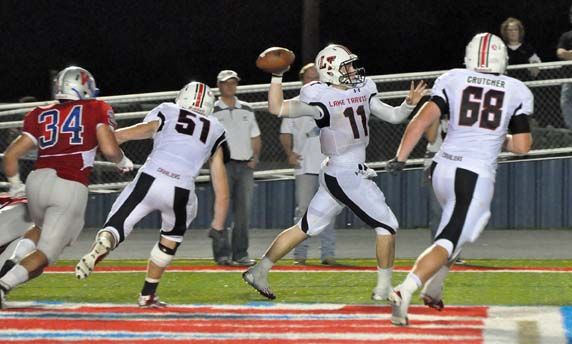 A One-Sentence Summary of each Lake Travis-Westlake game
2006: Westlake 38, Lake Travis 14: Chaps use a punishing running game (Bron Hager scores 3 TDs) to dominate the inaugural meeting.
2007: Westlake 28, Lake Travis 21: Westlake's defense holds off a Lake Travis rally by intercepting Garrett Gilbert 4 times.
2008: Lake Travis 38, Westlake 17: The Cavaliers rely on Gilbert's legs (3 rush TDs) rather than his arm and score their first win in the budding rivalry.
2009: Lake Travis 42, Westlake 21: Michael Brewer (422 yards passing) punishes Westlake's secondary with long pass after long pass to Connor Floyd and Andy Erickson.
2010: Lake Travis 32, Westlake 21: At DKR, Griffin Gilbert's touchdown catch gives Lake Travis a lead, and Tyler Paulsen's pick-six clinches the Lake Travis win in front of 30,000.
2011: Lake Travis 35, Westlake 7: When Lake Travis starting quarterback Colin Lagasse leaves early, on comes Baker Mayfield, and a legend is born.
2012: Lake Travis 14, Westlake 11: Westlake coach Darren Allman's fourth down gamble fails, setting up Mayfield's winning 96-yard touchdown pass to Grant Foster.
2013: Lake Travis 28, Westlake 27: Trailing 27-14 entering the final quarter, Lake Travis leans on running back Shaun Nixon, who rushes for 100 yards in the quarter as the Cavaliers complete another comeback.
2014: Lake Travis 24, Westlake 7: Lake Travis' defense sacks then-sophomore Sam Ehlinger 11 times, including one incredible stretch of six consecutive pass attempts.
2015: Lake Travis 35, Westlake 14: Charlie Brewer throws three touchdown passes and runs for another as Lake Travis overcomes the loss of starting running back Abe Willows.
2016: Lake Travis 49, Westlake 7: Maleek Barkley rushed for 167 yards and three scores to spark Lake Travis after Ehlinger left with an early injury; Steele O'Connor's fourth quarter touchdown averted Westlake's first shutout in more than 30 years.
2016 (6A, D1, Region IV final): Lake Travis 51, Westlake 3: Still without Ehlinger, Westlake has no answers as Lake Travis delivers one of the most lopsided defeats in Westlake history. Cade Brewer's one-handed catch grabs the attention of newly named Texas coach Tom Herman, who attended with his new staff.
2017: Westlake 21, Lake Travis 14: The Chaps stop Garrett Wilson short on a late fourth-down play to end nine years (and 10 games) of frustration.
2018: Westlake 44, Lake Travis 14: Taylor Anderson rushes for 176 yards and two scores and Westlake uses another punishing defensive effort to win a second straight in the series.