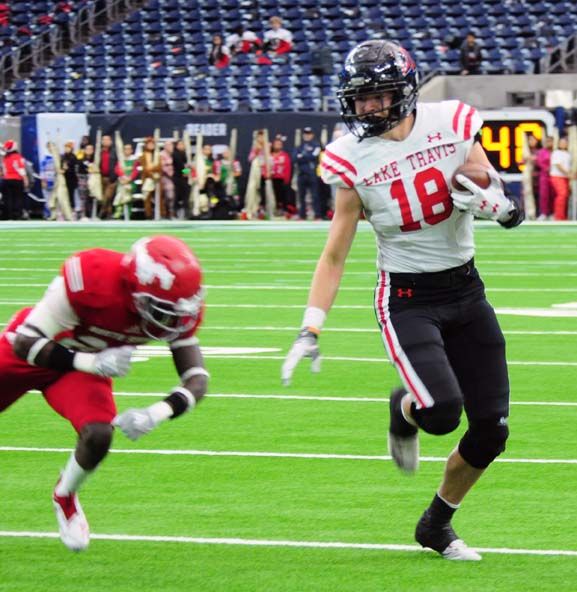 After switch from QB, McRee finds eye of recruiters as tight end
Originally published May 7 on Statesman.com.
A year can make a world of difference in a high school football player's development. Take Lake Travis tight end Lake McRee.
When the Cavaliers began their 2018 spring practice, McRee had just finished a freshman season as the B team quarterback, and he worked diligently to continue that development. Then head coach Hank Carter and offensive coordinator Will Stein called him into the office with an interesting idea.
"They wanted to move me from quarterback to tight end," McRee said on May 3.
No one dreams of playing tight end at Lake Travis, especially not someone fighting to be in the mix at the much more glamorous quarterback position. But looking at McRee's skill set and overall athleticism, Carter knew the conversation, while delicate, would be worth it.
"It's always tough when you're asking someone to change positions but even more so when you're asking someone to move from quarterback, especially at Lake Travis," Carter said. "This is a position where the family has invested a lot of time, energy and outside training. With Lake, we knew he had a skill set that if he trusted us and bought in, he'd take off."
McRee talked about it with his family. He saw University of Texas pledge Hudson Card entrenched as the starter with classmate Nate Yarnell, who earned a scholarship offer from Houston before taking a varsity snap, waiting in the wings.
"I'd been working at being a quarterback since I was in sixth grade, and it was a tough to see something that's sort of been a dream die," McRee admits, "but I talked about it with my dad and we both thought it was a good move. I just wanted to play and help the team."
Despite missing more than half of the 2018 season, McRee made Carter's premonition came true. McRee will enter his junior season as one of the Cavaliers' most promising – and highly recruited – weapons. Tulsa offered a scholarship earlier this spring. Texas followed. So did Arkansas, Arizona and Arizona State. And the list will only grow, putting McRee in an exclusive Cavalier club.
"Lake and Matthew Baldwin," said Carter, mentioning the former Cavalier quarterback who spent the 2018-19 school year at Ohio State before announcing his intention to transfer last month. "They are both guys who went from being the freshman B team quarterback to getting more than 10 scholarship offers."
Unlike Baldwin, McRee knows his days throwing passes are limited – though Carter says the 6-foot-5 tight end can "rear back and throw it as far as anyone."
He's learning how to marry his skills with the nuances of his new position, which saw him line up against one of the state's top defensive players – Judson's DeMarvin Leal.
"As a quarterback, you don't have to block anyone, and then all of a sudden I'm blocking DeMarvin Leal," McRee said.
McRee held his own in the Cavaliers' 38-21 playoff win. Now Carter expects that he'll make his mark.
"He is a unique physical specimen," Carter said. "He has height and strength and the desire to play rowdy. He's been a very serious basketball player, but his height on a basketball court is not elite. It is on a football field. A big tight end who can really catch the ball is wanted at all levels of this sport. He's got the skills that college coaches like to see. So do high school coaches."
After making 16 catches for 255 yards and two touchdowns in just six games, McRee's ready to be a larger part of the Cavaliers' high-powered offense.
"I just want to be a big target for Hudson and be able to open up the field a little bit," McRee said. "We have a bunch of great receivers, so we have a bunch of options."
McRee and all of those receiving options will be on display when the Cavaliers hold their annual Spring Jam on Friday, May 17.