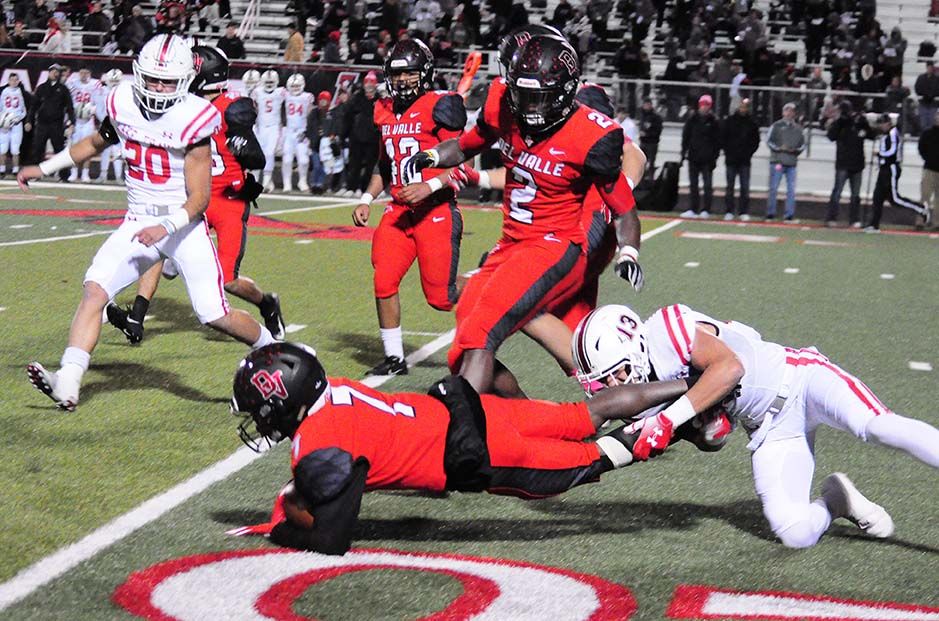 Early defensive domination produces big lead, 54-21 win over Del Valle
Before junior Nate Yarnell threw his first pass as a starting quarterback, Lake Travis had already taken a 28-0 lead against Del Valle in a game it would go on to win 54-21.
Those 28 points came in the game's first four minutes. With Del Valle playing into a constant wind in the first quarter, Lake Travis pounced quickly, pinning the Cardinals deep in their own territory and attacking relentlessly with its defensive front, led by Trey Sofia and Raleigh Erwin.
"The wind was a significant condition that both teams had to endure tonight," Lake Travis coach Hank Carter said. "Given the opportunity on nights like this, we'd much rather start with our defense."
After Erwin sacked Del Valle quarterback Jace Wilson for a 13-yard loss on the Cardinals' opening possession, Sofia blocked a punt to set up a short touchdown run by Yarnell. When Del Valle's second drive went three-and-out and the snap sailed over punter Aaron Ramirez's head, Sofia won the scrum in the end zone and recovered the loose ball for a touchdown.
Del Valle's troubles continued when Copeland Gothard returned an interception 25 yards for a touchdown and Aden Nava set up the a short touchdown run by Weston Stephens with his interception return.
"We came out and stuck to the game plan it all came true," Sofia said of his team's first-quarter success. "We really rallied as a defense."
The fast start allowed Yarnell to ease into his first start, taking over for the injured Hudson Card.
"Us going out as a defense and setting the tone allowed Nate to come in and control the ball," Sofia said.
In scoring 28 points, Lake Travis' offense snapped the ball just three times, all from inside the Del Valle 6-yard line.
When finally presented with an opportunity to throw, Yarnell made it count. He hit Grayson Sandlin with a short pass that became an 82-yard touchdown when Sandlin spun away from a defender and outraced everyone up the sideline to give the Cavaliers a 35-0 lead after the first quarter.
Del Valle eventually settled in, utilizing running back Tavierre Dunlap. He finished the game with 164 yards rushing, including a 69-yard touchdown, and also caught a touchdown pass. But Del Valle's passing attack, which had flourished with Wilson connecting with Caleb Burton and Darius Lewis, never materialized.
Wilson was benched following a slow start and combined with Sir McCook to throw three interceptions. Burton and Lewis combined for just 77 yards on nine catches. Wilson threw a pair of second half touchdown passes but the outcome had long been decided.
Weston Stephens led Lake Travis' rushing attack with 109 yards and two touchdowns. It marked his first 100-yard rushing game.
"He had a great game," Carter said. "He's has shown growth and improvement at a time when we really needed it. He really answered the bell."
Yarnell completed 13 of 20 passes for 224 yards with two scores, one each to Sandlin and Kyle Eaves, who combined for 11 catches and 197 yards. The junior quarterback also threw a pair of interceptions, which when paired with two fumbles, got the coach's attention.
"That's just too many turnovers," Carter said.
"I thought Nate did some good things, and he also did some things that you would expect to see of someone making his first start," Carter said. "He's played a lot of quarterback, but not a lot of it with our starters. I expect that he will take a few steps forward over the next few weeks and the game will significantly slow down for him each week."