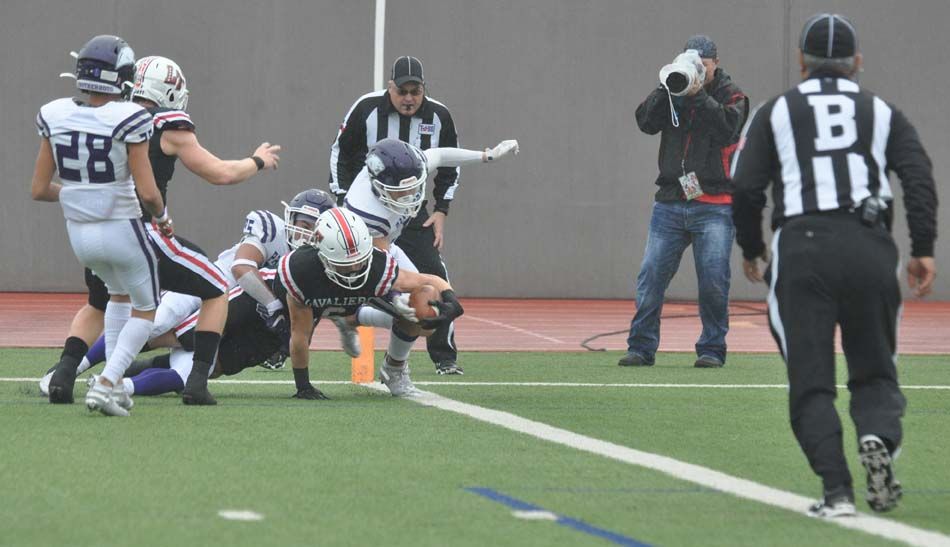 Scruggs steps up to spark Cavaliers' offense
A season's worth of patience paid off on Saturday for Jackson Scruggs.
With Lake Travis and Weslaco locked in a 3-3 game early in the second quarter, Scruggs made the play that kick-started the Cavaliers to a 52-17 win in a 6A, Division I, Region IV semifinal at Alamo Stadium. On a third down that saw Weslaco's defense locked in on both Kyle Eaves and Grayson Sandlin, Lake Travis quarterback Nate Yarnell found his next option.
Scruggs, who came into the game with just 11 catches for 122 yards to show for his season, broke open across the middle, caught a pass from Yarnell in stride and raced for a 37-yard score to put his team in front. Scruggs' score kicked off a run of six unanswered touchdowns as Lake Travis stormed to a 45-3 lead.
"I was just trying to run as fast as I could to get into the end zone," Scruggs said. "I wasn't trying to dance around or do too many juke moves. It comes back to practice. You have to practice 100 percent of the time like you're going to score on every play."
The touchdown came as part of a career-best 4-catch, 82-yard performance that also included his share of blocking for Weston Stephens, who led the Cavaliers with 174 yards on 19 carries. All four of Scruggs' receptions earned Lake Travis a first down.
"The catch and run came at a time when we really needed it," Lake Travis coach Hank Carter said. "I think this is the best game he's played."
"Everyone in our receiving corps can do it," Yarnell said. "We don't worry about who gets the most touches. Jackson stepped up today and it was exciting to see him step up and provide for our team."
Eaves and Sandlin, who combined for 13 catches against Weslaco, are routinely the focus of opposing defenses, and Scruggs knows that if he keeps finding ways to get open, the ball will find him.
"With the past games that people have seen, we throw a lot of deep balls to Kyle and Gray and they see a lot of double coverage," Scruggs said. "Whenever we have an opening, we have to capitalize on it."
On a rainy Saturday in San Antonio, the junior receiver did exactly that. His quarterback, for one, was appreciative.
"Their defense was set up to cover those two guys [Eaves and Sandlin] and he came open," Yarnell said. "He did his part and he played a phenomenal game."