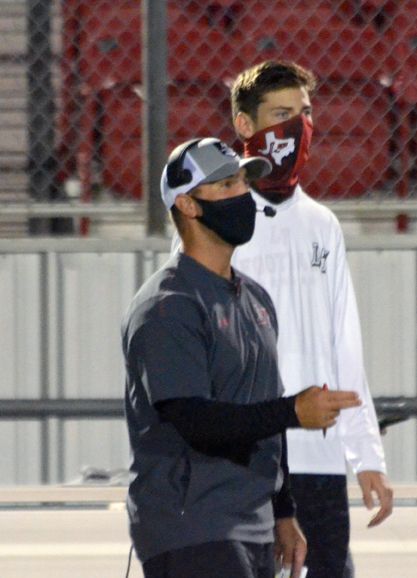 Cavs seek answers in final scrimmage before 2020 opener
Lake Travis gets a last chance to answer some preseason questions Friday night against Cedar Ridge. After the scrimmage with the Raiders, it's on to business against Westwood on Thursday, Oct. 1.
Among the questions Cavaliers' coach Hank Carter wants to see answered:
Who will lead the Cavaliers' offense in Nate Yarnell's absence?
Can the offensive and defensive lines develop into the dominating units found on most title contenders?
When Yarnell suffered a broken finger on his throwing hand, junior Isaac Norris and sophomore Bo Edmundson emerged as the most logical replacements. Norris, a quarterback through is freshman season, spent last year as a tight end and H-back. With 17 catches, Norris is actually the Cavaliers' leading returning pass-catcher. At the start of the season, at least, he hopes to be throwing passes.
"The transition [from TE] hasn't been bad," Norris said following the team's final inter-squad scrimmage last Friday. "I grew up playing quarterback. It was shocking when Nate got hurt, I just had to be prepared to step up and do my thing."
Edmundson spent last season quarterbacking Lake Travis' freshman black team to a 9-1 mark.
Norris and Edmundson rotated running the first team in last Friday's intersquad scrimmage. Norris connected with Jackson Scruggs for a big gain on the first play and finished with two touchdown passes and two more touchdown runs. Edmundson threw a touchdown pass as well.
"We're still learning, but we did better as the scrimmage went along," Norris said. "There are some rough edges that we need to get smoothed out, but I love what we've been able to do so far."
Carter, along with offensive coordinator Tommy Mangino, will be the ultimate judge. Along with Cedar Ridge scrimmage results, they'll evaluate how the pair perform during practice leading up to the scrimmage.
"We got a lot of quality reps from our quarterbacks, and I feel like we have two guys who are showing us that they can play," Carter said following the Sept. 18 scrimmage. "We need to see more because Oct. 1 is rapidly approaching."
Each quarterback has his strengths, Carter said.
"Isaac can make plays with his feet and that can really work for him," Carter said. "Bo can make throws that, outside of Nate, no one else in the program can make."
Those abilities won't be the only factors in the coaches' decision. The Cavaliers' offense, and specifically their passing game, has long been predicated on timing. Different plays are designed to get the ball to different players at specific times. Carter and Mangino will gauge the competition with that in mind, too.
"The big thing for our offense is getting the ball where it needs to go when it needs to go there," Carter said. "That's the goal. The quarterback we go with to start the season will be the one who's shown us the ability to do that."
Carter's also hopeful that the quarterback will benefit from an experience running game and an offensive line that may be as big as any he's had in his decade guiding the Cavaliers. Jacob Tracy and Judge Niland anchor a line that will also includes William Bishop, Nico Brown, Seth McDaniel, Jackson Garner and Ben Hartman. At 6-foot-2, 250, Tracy is the smallest lineman of the group.
"They are a bunch of big, smart, aggressive and nasty guys, but in a good way," Carter said.
Raleigh Erwin anchors a defensive line that will include a rotation of Austin Spille, Kyle Marsh, Kaden Carnes, Daylan Kazmierski, Lucas Rudich and Jaden Nguyen. Carter said both lines will have to play big if the Cavaliers are going to achieve their 2020 goals, starting with this week's scrimmage.
"We need to be feeling like we took a step forward," Carter said. "We have to be great there if we're going to make a run in 6A, Division I football. That's what I'll be looking for this week."