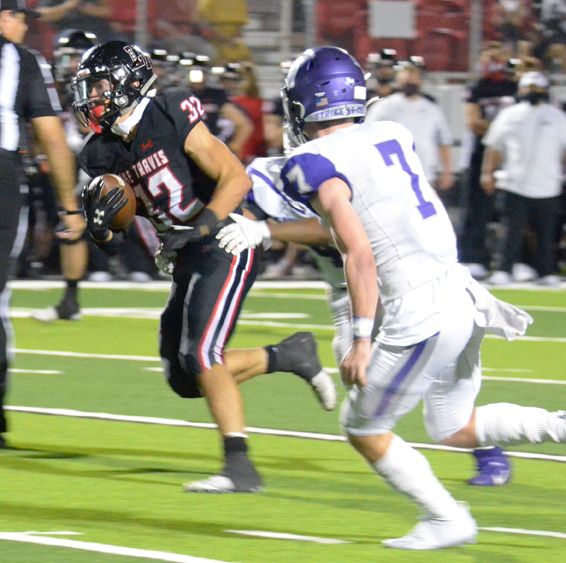 Lake Travis smothers San Marcos 58-3
Lake Travis – Aden Nava took a deflected pass 63 yards for Lake Travis' first touchdown and the eighth-ranked Cavaliers never looked back, beating San Marcos 58-3 to open District 26-6A play Friday night.
San Marcos (1-2, 0-1) took an early 3-0 lead when Jose Duenez connected on a 32-yard field goal after the Rattlers opened the game by recovering an onside kick. But on Lake Travis' third play, Nava found himself behind the defense and in the right spot to grab Bo Edmundson's pass after it bounced off teammate Michael Kennedy's hands.
"There was some miscommunication and I ran a post route when I should have run a fly," Nava said. "I saw him go for the ball and thought I might have a chance if there was a tip, and that's what happened."
Nava, who finished with four catches for 109 yards, added a second touchdown later in the opening quarter. He also had a 30-yard punt return.
"He's had as good a [preseason practice] as anyone," Lake Travis coach Hank Carter said of Nava. "I think he's going to have an incredible year as a receiver for us. That's what we expect from seniors who have been starting since they were sophomores."
Nava spent the last two seasons starting in the Cavaliers' secondary but has made a quick re-adjustment to receiver, where he most frequently played through his freshman season.
"It's a little different, but I've played a lot of receiver before," he said. "I feel really comfortable out there."
Weston Stephens, Lake McRee and Marcelo Alanis ran for first-half touchdowns as the Cavaliers (2-0, 1-0) opened up a 45-3 halftime lead, scoring on their first seven possessions.
Edmundson added a third touchdown pass early in the third quarter, connecting with Jackson Scruggs for a 60-yard score, and finished with 217 yards on 10-of-19 passing.
While Lake Travis scored at will, San Marcos never got its offense going. Lake Travis' defense keyed on Rattlers running back Kanui Guidry, who came into the game averaging more than 200 yards per game. He managed just 24 yards on 17 carries, and the Rattlers crossed midfield just twice after recovering the early onside kick.
"I thought we contained them very well," Lake Travis defensive tackle Austin Spille said. "They really didn't want to throw the ball, so they just kind of forced it at us. We were in the right spots."
San Marcos gained just 115 yards on the night, 43 of which came on Isaiah DeLeon's run in the third quarter.
"They do some interesting stuff with their running game, and our goal was to get our defensive line to play much faster," Carter said. "For the most part, we did that."
Lake Travis also got an early 51-yard field goal from Nathan Ellisor. Hays McCannon converted two field goals in the second half.
"I feel like we have unusual depth with our kickers," Carter said. "That is definitely a weapon for us. Hays has made a lot of kicks for us, but Nathan just won the job with the way he kicked in the preseason. It was great to see him make that long one. That was very exciting considering he missed all of last season with a knee injury."