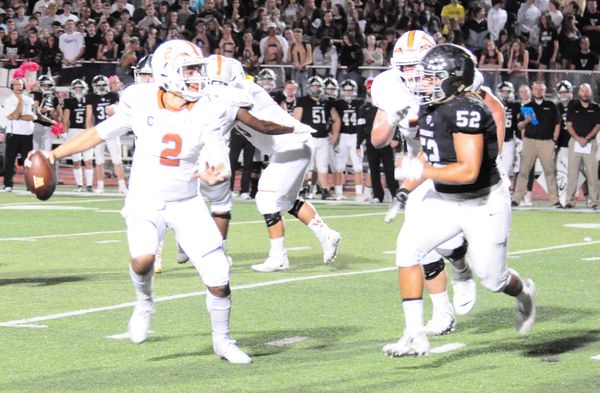 Westwood offers familiar face, high-scoring offense and defense looking to improve
While Lake Travis offensive coordinator Tommy Mangino focuses on who runs what could be a balanced and effective offense, head coach Hank Carter and defensive coordinator Ryan Luedecke will set their sights on a traditionally high-scoring Westwood offense. The Warriors opened their 2020 season with a 37-8 win over San Antonio Southwest.
Led by quarterback R.J. Martinez, who spent his freshman season at Lake Travis before his family moved, the Warriors boast one of the area's most prolific offenses. Martinez passed for 3,400 yards last season and managed an economical 209 yards with 3 touchdowns on just 8 of 11 passing in the win.
Martinez grew up playing youth football with many of Lake Travis' seniors, so there will likely be some bragging rights on the line with old teammates such as Raleigh and Wesley Erwin, Lake McRee, Jackson Scruggs, and Ife Ohalete. As defensive starters, the Erwins and Ohalete will get to battle with Martinez throughout the night.
Robbie Jeng has been one of Martinez's favorite targets, and he scored on a 96-yard touchdown pass against San Antonio Southwest last week. Julian DeBerry gives Martinez another experienced pass-catcher.
"We know they like to throw it around and score some points," Carter said. "It should be a great challenge for us to line up against a team that really likes to throw it 30-plus times. It will be a challenge dealing with their offense."
And maybe with their defense too. A unit that allowed 44 points per game produced six turnovers against Southwest. Westwood's defense scored twice: a 60-yard interception return by Brian Lee and a safety. The Warriors allowed just 264 yards.
The eight points Westwood's defense allowed marked their stingiest showing since Vista Ridge scored just seven in the 2018 season.
"Their defense is scrappy and they were really getting after it last week," Carter said. "I'm expecting to see a really good team, and we know they can score points."
Lake Travis and Westwood will meet at Dragon Stadium in Round Rock on Thursday, Oct. 1. Kickoff is set for 7 p.m.
The teams have met seven times with Lake Travis holding a 6-1 lead. Westwood won the initial meeting, in 2006, and the Cavaliers have won six straight, including a 2013 6A, Division 2 bi-district playoff game 52-7.