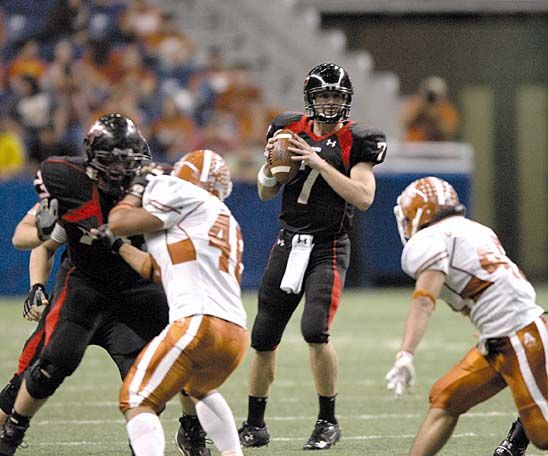 First team offense
MVP: Garrett Gilbert (2006-2008): The statistics are staggering, but Gilbert's value to Lake Travis far exceeds the tangible numbers. His ability to pick up his play as seasons stretched deeper into the playoffs became the stuff of legend. Gilbert made 13 playoff starts and won his final 12 after dropping his initial playoff game against Hays in 2006. In those 12 wins, Gilbert was more prolific – and effective – in all aspects of his game than he was in the regular season. His 2007-08 playoff stats: 12 games, 259 completions, 364 attempts (71 percent), 3,719 yards, 40 TD (6 Int) passing; 107 carries, 777 yards, 21 TD rushing. More importantly, though, was his field presence and the comfort he provided his teammates. As classmate Austin Pollard recalled during the 2007 playoff season, he and Gilbert were discussing semifinal foe Dayton, favored to beat Lake Travis. "I told him that I was pretty nervous about this one, and he just turned and looked at me dead in the eyes and he said, 'I won't let us lose. I promise you I won't let us lose.' And as soon as he said it, as confident as he said it, I wasn't worried at all anymore." Gilbert started his college career at Texas before transferring to SMU. He became the first Lake Travis player selected in the NFL draft when the St. Louis Rams took him in the sixth round in 2014.
1st team
QB: Garrett Gilbert (2006-2008): two-time state champion; state and national player of the year in 2008; finished Lake Travis career as state's all-time leader in passing yards. He also holds Texas single season records for passing yards (top two seasons, actually), completions and attempts. Finished his career with 12,534 yards and 137 touchdowns. He ranks second all-time in touchdown passes, completions and attempts. Won last 30 high school games in a row, posted overall record of 39-4 in three seasons as starter. Started college career at University of Texas before transferring to SMU.
RB: Ben Reid (1994-1996): Lake Travis' all-time leading rusher with 3,900 yards in three seasons. Was Lake Travis' first all-state selection when he was voted 3rd team all-state as a senior. Multi-sport athlete who also lettered in baseball, basketball and track, where he was a district sprint and shot put champion. Played college football at Angelo State.
WR: Jason Bird (2005-2007): Holds state's single-season record of 153 receptions set in Lake Travis' first state championship season in 2007. His 153 catches came in 15 games. Senior season saw him gain 1,815 yards and catch 25 touchdowns. Also added 71 catches for 814 yards as junior in 2006. Had 60 catches (644 yards, 11 TD) in 2007 playoff run.
WR: Fred Robinson (2003-2005): Part of Lake Travis' original triplets, with QB Todd Reesing and RB Luke Lagera. All-state receiver who helped Lake Travis to its first two district titles under Jeff Dicus. Ranks fifth in Texas history with 3,785 receiving yards.
WR: Conner Floyd (2008-2010): Member of three state championship teams. All-state in 2009 after catching 69 passes for 1,316 yards and 9 TD. Saw senior season interrupted by broken leg suffered in season opener, but came back to take part in and make key catches during playoff run to fourth straight title. Finished career with 112 catches, 2,240 yards, 17 TD. Playing college football at Tulsa.
OT: Paden Kelley (2006-2008): Anchored offensive line for Lake Travis' most prolific offenses and first two state championship teams. Played left tackle, earning all-state honors. Didn't allow sack of Garrett Gilbert as senior. Earned scholarship to University of Texas and was part-time starter before leaving football after 2011 season.
OG: Ian Kelso (2007-2009): Three-time state champion. Vital cog of offensive line in 2008 and 2009, starting at guard. Two-time all-district pick.
C: Zack Peckover (2006-2007): Senior leadership proved vital in first championship season, helping shape team's attitude as well as protection at key times throughout campaign. All-district pick.
OG: Dustin Wuest (1996-1997): One of Lake Travis' first Division I linemen. Anchored offensive line in mid-1990s. Played college football at Vanderbilt.
OT: Robert Turner (1999-2001): Started three years. As junior became anchor of Lake Travis' first playoff team in 2000. Played both offensive and defensive line in 2000, earning all-district honors. Played college football at New Mexico, earning all WAC honors. Became first Lake Travis player to play in National Football League.
HYB: Andy Erickson (2007-2009): Three-time state champion. Emerged as one of state's most formidable weapons in senior year after showing flashes of brilliance as sophomore and junior. Was primary kick returner during title run of 2007, including 96-yard return in playoffs. Played key role in 2008, scoring touchdowns via run, catch and return. Had 10 combined touchdowns and 1,628 total yards on 129 touches. Dominant as senior. Rushed for 1,063 yards and 23 TD. Caught 60 passes for 1,325 yards and 15 TD. Returned a kickoff for TD and averaged nearly 50 yards per return in seven tries. Also scored touchdowns via kickoff and punt return in annual Texas High School Coaches all-star game. Started college career at Rice before transferring to Texas State.
(Hybrid is WR/RB combination)
K: Kramer Fyfe (2008-2009): In two seasons, made 16 of 17 field goal attempts with a long of 47 yards. Also converted 157 of 164 extra points. Now at Texas Tech.