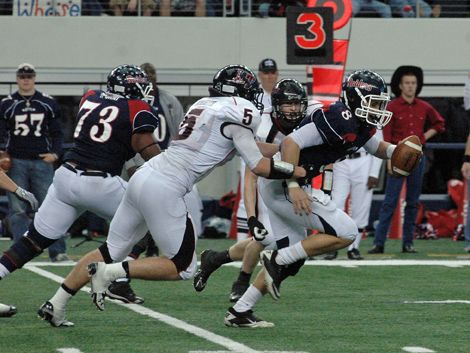 Second team defense
DE: Luke Adkins (1998-2000): Three-year starter who emerged as consistent threat off edge. Helped lead Lake Travis to first playoff appearance and win in 2000. Scored touchdown as tight end in playoff win. Played college football at Colorado State.
DT: Matt Kuenstler (2006-2007): Younger brother of Mark Kuenstler made name for himself as anchor of defensive line in 2007 season. Made 111 tackles (20 solo) and four sacks to help Lake Travis to first state championship.
DT: Jude Jeffress (2010-2011): Two-time state champion who teamed with Jonathan Roberts to form hard-to-block duo before emerging as starter as senior. In two years had 160 tackles (105 with 13 TFL, 6.5 sacks as senior). Also recovered pair of fumbles as senior.
DE: Trevor Gillette (2008-2009): Two-year starter at defensive end and also long-snapper. Saved best game for last, when turned in dominating performance against Longview to win school's third state championship. As senior had 54 solo, 69 assists, two sacks.
OLB: Blake Burdette (2010-2011): Two-year starter at linebacker. Had 39 solo, 70 assists with 8 tackles for loss as junior. Followed that up with 64 solo, 96 assists and 23 tackles for loss as senior. Also added 5.5 sacks and an interception as Cavaliers won fifth title in a row.
ILB: Mike DeWitt (2006-2007): Two-year starter at middle linebacker. Senior season included 43 solo, 68 assisted tackles. Also had an interception, two fumble recoveries and a forced fumble. Had key play in state championship win over Highland Park when he blocked a short field goal to preserve Lake Travis' lead late in first half. Played college football as option fullback at Air Force.
ILB: Austin Williams (2009-2010): Two-year starter who earned Defensive MVP honors in 2010 title win over Denton Ryan. As junior was part of 176 tackles and forced five fumbles. As senior part of 158 tackles, including 9 in backfield and a sack.
OLB: Bryant Lagasse (2006-2007): Standout defensive end on first championship team. Led team with 13 sacks as senior, including three in state championship win over Highland Park. Was part of 116 tackels as senior, including 70 solo. Forced three fumbles.
CB: Jacob Standard (2011): Played just one season but made 77 solo tackles with 5 interceptions. Had both interception and fumble recovery in state championship win over Hewitt Midway to earn Defensive MVP honors in game.
S: Colin Lagasse (2009-2011): Played just one full season on defense and earned all-state honors as safety as sophomore in 2009. Had key play in 2009 playoff run, when he caught Steele's Malcolm Brown from behind and forced a fumble as Brown rumbled for a sure touchdown. Played different spots in defense as junior and senior after switching more to offense.
S: Dane Balasz (2010-2011): Named 4A defensive player of the year by one reporting service following 2011 season, when had 89 tackles and five interceptions to help Lake Travis to perfect season. Emerged as junior with 82 tackles (42 solo) and 8 pass break-ups, which helped coaches move Colin Lagasse to offense. Also part of state semifinal baseball team.
CB: Marcus Pate (2007-2008): Two-year starter and two-time state champion. Big play defensive back who made game-saving play against Vista Ridge in 2007. Also had interception and return of blocked field goal to set up scores in 2007 championship game against Highland Park. Made 83 tackles (43 solo) as senior in 2008.
P: Greg Genung (1999-2000): Solid punter who also played soccer. Part of first playoff team and had several key punts in first-ever playoff win over Connally.
Honorable Mention:
DE: Shaquille Marable
DT: Nick Whitehair
ILB: Corbin Crow
OLB: Ryan White
CB: Taylor Wrinkle
S: Kyle Reesing