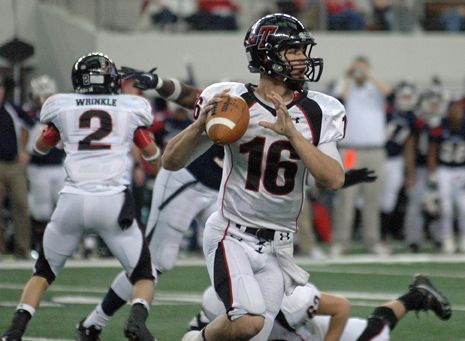 Second team offense
QB: Michael Brewer (2008-2010): Two-year starter at quarterback after playing more as receiver in 2008. Led team to state titles in 2009, 2010. Started 29 games at quarterback with record of 28-1. In 2009, passed for 4,450 yards and 43 TD while completing 69.7 percent of his passes, rushed for 615 yards and 23 TD to lead team to 16-0 mark and state title. Missed three games due to injury as senior but still passed for 2,865 yards and 26 TD while rushing for 743 yards and 12 TD. Offensive MVP in 2010 title game. Finished career with 7,458 yards and 69 TD passing, 1,493 yards and 38 TD rushing.
RB: Luke Lagera (2003-2005): Two-time all-district selection who saw his senior season cut short with knee injury in scrimmage. At time of injury was on pace to eclipse Reid as school's all-time rushing leader. Rushed for more than 1,000 yards in both his sophomore and junior seasons.
WR: Cade McCrary (2007-2008): Emerged as Garrett Gilbert's favorite target in championship 2009 season, when had 84 catches for 1,711 yards and 24 scores.
WR: Griffin Gilbert (2008-2011): Caught pass from older brother as freshman, then developed into three-year starter and all-state performer. Had more than 1,000 yards both junior and senior seasons, finished career with 36 touchdown catches.
WR: Jared Quick (1999-2000): Lake Travis' first dominant wide receiver. Exploded as junior with 180-yard effort against Dripping Springs, then was primary receiver in Cavaliers' first playoff season. In two playoff games had 22 catches for nearly 400 yards. Played college football at New Mexico State.
OT: Ronnie DeWitt (2004-2005): First dominant linemen of Jeff Dicus era. Paved way for Todd Reesing, Luke Lagera and Fred Robinson to put up explosive numbers. Earned scholarship to Tulsa.
OG: Dusty Williams (2007-2008): Two-year starter, two-time state champion. Key cog of line protecting record-setting Garrett Gilbert.
C: Will Hawk (2008-2009): Two-year starter made line calls for 32 consecutive wins.
OG: Jake Stoetzner (1996-1997): One of Lake Travis' first offensive linemen to earn scholarship. Key component on line that paved way for Ben Reid to rush for 3,900 yards in career. Earned scholarship to Tulsa where started part of two seasons.
OT: Taylor Doyle (2008-2010): Three-year starter and anchor of line. Injured during 2009 championship game but returned for senior season and third state championship. Earned scholarship to Texas.
HYB: Colin Lagasse (2009-2011): Jack-of-all-trades started career as all-state safety in 2009 (103 tackles, 2 INT, 1 sack) before lining up at running back, receiver, linebacker, defensive end and quarterback at different times in career. Had key play in 2009 championship run, catching Steele's Malcolm Brown from behind and forcing fumble. Filled in at quarterback in 2010 when Michael Brewer missed time, leading team to 2-1 record as starter, including win over Johnny Manziell's Kerrville Tivy team. Had key interception late in that game. Began 2011 as starting quarterback before injury moved him back to running back. Was state championship game MVP as senior. In 2010, passed for 522 yards and 7 TD, rushed for 490 yards and 9 TD, caught 47 passes for 463 yards and 4 TD. Rushed for 867 yards and 17 TD as a senior.
K: Thomas Rebold (2006-2007): All-state kicker during first championship season, when made 11 of 16 FG and 73 extra points.
Honorable Mention:
QB: Baker Mayfield, Todd Reesing, Rob Walker
RB: Chris Aydam, Shaun Nixon, Paul Pugsley
WR: Zach Austin, Dustin Wernecke, Austin Pollard
C: Casey Laney, T.J. Armstrong
OT: Marshall Womack
OG: Reagan Womack
Util: Cameron Wrinkle, Austin Wrinkle, Cody Skaggs
K: Stephen Pyle, Chuy Gutierrez, Jeff Lynn