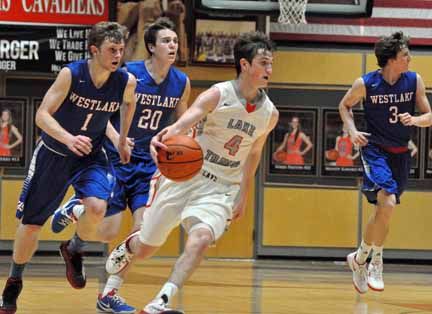 After slow start, Seidl, Cavs blow past Chaps
Lake Travis used a potent inside-outside attack to blow open a close game and cruise to a 65-44 win over Westlake Tuesday night.
After a sluggish start, Tate Searle scored eight second quarter points to help push the Cavaliers (22-5, 10-3 in District 14-6A) to a 24-13 halftime lead. Christian Seidl took over from there and the lead continued to grow. Seidl opened the second half by knocking down a three-pointer off a feed from Searle. Then he converted a steal into an old-fashioned three point play. When Jake Budde found him for another open three-pointer, Lake Travis led 43-23. Westlake never got within 16 points after that.
Quick starts to the second and third quarters keyed Lake Travis' surge. The Cavaliers opened both quarters with 7-0 runs, extending what had been a 10-6 lead at the end of the first quarter.
"We talked about working mentally hard on defense," Seidl said afterwards. "We know our defense leads to offense."
The defensive struggle that marked the first Battle of the Lakes never materialized despite the low-scoring opening quarter. The Cavaliers beat the Chaps (16-9, 8-4) 40-30 in December. Lake Travis topped the 40-point mark with 3:17 left in the third quarter when Budde hit from the foul line.
Mack Kelley and Harrison Hackney tried to keep Westlake close, but Lake Travis' hot second-half shooting kept Westlake at a distance. The Cavaliers hit four three-pointers, all coming when guards penetrated and kicked it out to shooters, much like the San Antonio Spurs. Seidl hit three of the threes, but it could have been anyone, he said.
"We like to work the ball around," he said. "This is a team of shooters and we know anyone can get hot."
Tonight, Seidl had the hot hand.
"The first one went in," he said. "When that happens, sometimes they all go in."
Seidl scored 17 of his game-high 19 after halftime. Budde scored 16 on a flurry of drives and jumpers. Searle added 14.
Harrison Hackney and Mack Kelley tried to keep Westlake in the game. Hackney scored 10 of his 13 points in the first half, when he was one of just two Chaps to score. Kelley scored all 11 of his after halftime but the Chaps never stopped the Cavaliers' attack.
Both teams remain in solid playoff position. Lake Travis trails district-leading Hays by a game. Westlake sits comfortably in third place.
Lake Travis 65, Westlake 44