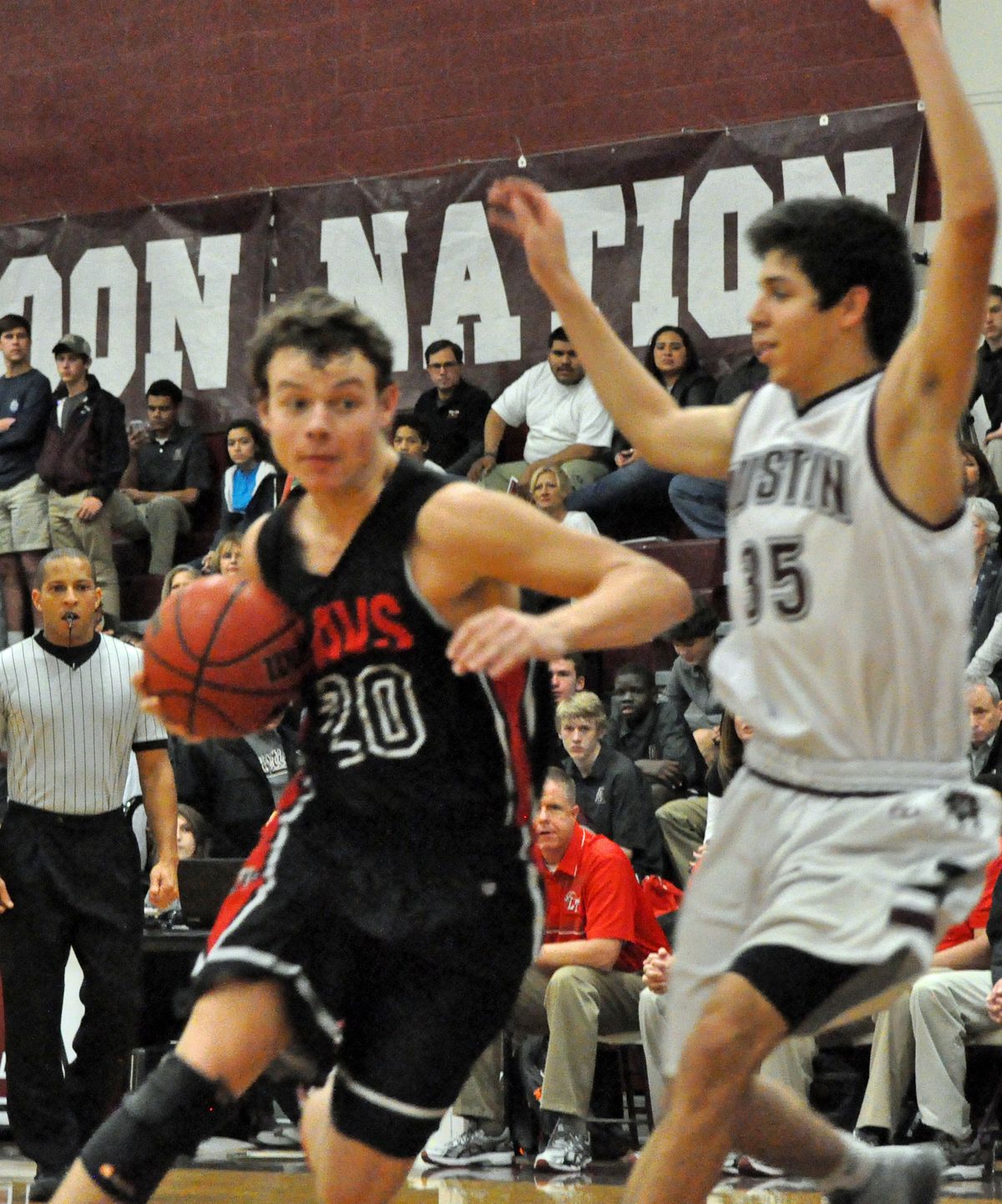 Cavs change jerseys, fortunes in win over Austin High
Lake Travis changed its jerseys and its fortune Friday night.
With each player wearing a teammate's jersey, the Cavaliers had their best offensive output of the season, beating Austin High 82-67. Lake Travis (21-5, 9-3 in District 14-6A) hadn't scored more than 55 points in its last four games, failing to get out of the 30s in losses to Hays and Anderson.
"It's been a long time since we've played a good offensive game," senior forward Jake Budde said afterwards. "Maybe since the start of district?"
Coach Clint Baty said a mentality change helped spark a better effort.
"We'd been trying to do a lot of things out of our half-court offense," he said, "but tonight we just came out ready to attack."
The uniform change sent a message as well.
"We talked this week about playing for our brother," Baty said. "Put on someone else's jersey and play for him."
No one attacked more relentlessly – or effectively – than Budde. He scored a season-high 31 points to pace the Cavaliers while wearing the jersey that normally belongs to Christian Seidl.
"We practiced a lot more on offense, worked on cutting harder, screening better," Budde said.
As for his big night?
"Sometimes they just go in."
His basket late in the first half gave the Cavaliers – who never trailed – a 13-4 lead. After Austin High (12-12, 4-8) cut the lead to 14-13 on Rafael Ramirez' three-point play early in the second quarter, Budde sparked a 14-3 run with three driving baskets and assists on three pointers by Seidl and Yen Chen Wee.
Lake Travis opened up a 42-28 lead in the third quarter before Justin Hamill helped Austin High get back within 44-37. But Budde and Sean Wimbush converted consecutive three-point-plays and the Maroons never got within seven again.
The Cavaliers got balance behind Budde. Tate Searle and Seidl scored 13 each. Wimbush added nine. Davis Franklin led Austin High with 12 points. Ramirez, Hamill and Beau Kalbacher added 11 each.
Lake Travis 82, Austin High 67