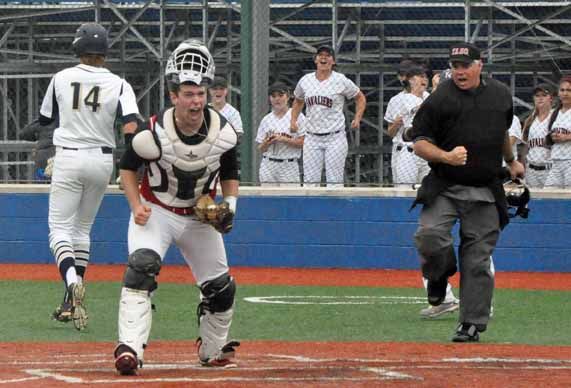 Collins tops Cavaliers in Area opener 2-1 (but LT comes back for series win)
Friday ended about like it started for the Lake Travis baseball team: frustratingly.
Klein Collins got a walk-off double from Jon Windham to top Lake Travis 2-1 in the opener of the teams' Area playoff series in Mumford. Windham's winner capped a day that began when the Cavaliers' bus broke down on the way to the game.
"That's just part of the day," Lake Travis coach Mike Rogers said. "You've got to overcome that. Once we got here and got into a little rhythm, I thought we were okay."
Once in Mumford, it took the Cavaliers a few innings to get going against the Tigers and ace Nick Mickolajchak, who retired the first nine batters he faced while being staked to a 1-0 lead. After falling behind Lake Travis starter Tate Sandford 0-2 to lead off the Collins first, Angel DeLaFuente slugged a home run to left to spark the Tigers.
Sandford rebounded and held the Tigers scoreless thanks to his defense. Collins put two runners on base in the second, third and fourth innings only to come away empty. In the second, Sandford got out of a first-and-third jam by getting Ryan Branum to ground out to short and continued living dangerously.
In the Tigers' third, Jacob Curry delivered a two-out double and Mickolajchak followed with a single to left. Curry tried to score but Tanner Looney delivered a strike to Jacob Wyeth and the catcher applied the tag to end the inning.
That breathed life into the Lake Travis offense. Chris Roller led off the fourth with a hustling double for the Cavaliers' first hit off Mickolajchak and scored when Wyeth bounced a two-out single into right field, beating a shift expecting him to pull the ball.
The Cavaliers' defense rescued Sandford again in the fourth. Dillon Nesbit drew a one-out walk and courtesy runner James Kuykendall tried to come all the way around on Jacob Wieder's double to deep right center. But Eric Gonzales and Jared Triolo executed the relay perfectly, and Triolo's throw to Wyeth arrived in time to nail a second runner at the plate.
"It's always a little momentum shift," Rogers said. "We were able to take advantage of it a little bit. But we still left some runners out there, and that really kind of hurt us. But we played great defense, and that's what we try to do, play great defense and pitch good."
Lake Travis had its best chance to take the lead in the top of the seventh. Mickolajchak hit Brad Demco with a pitch to start the inning, Dylan Bryant followed with a one-out single and Nolan Glubke walked to load the bases. Jordan Markim pinch hit for Chris Funk, and Rogers hoped he could squeeze in a run, but he swung away instead and tapped into an inning-ending double play.
"That's the way it is in these type of games," Rogers said. "If you get the big hit, you're the hero. If you don't… We were trying to take a pitch and were going to squeeze on the second pitch, but it didn't work out for us."
Collins responded in the bottom of the seventh when Sandford struggled with his control. He walked Wieder and fell behind 3-0 to Windham, who delivered the winner after taking a strike.
"That's the way playoff games are," Rogers said. "We played good defense and Tate pitched really well. They're an outstanding team. I think we're an outstanding team. It's just a 2-1 game and that's tough. In these games one little thing can make a difference and maybe tomorrow will be our day."