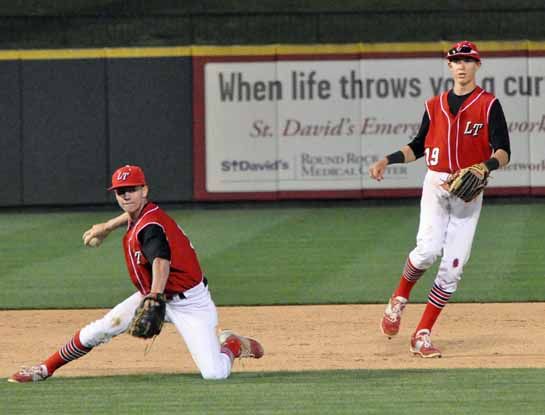 Davis' blast highlights Bowie's Dell Diamond triumph
Bowie pitcher Kyle Gray started strong, survived a shaky sixth inning and finished with a flourish, leading the Bulldogs (11-0, 7-0 in District 14-6A) to a 7-4 win over Lake Travis (10-3-1, 4-2) Wednesday at Dell Diamond.
Gray didn't allow a hit until the fourth inning and didn't run into trouble until the sixth, when he worried too much about courtesy runner Hudson Fife while protecting a 7-2 lead. Lake Travis catcher Jacob Wyeth walked with one out in the sixth, and Fife drew a balk to reach second. After Gray made several attempts to pick Fife off second, Jared Triolo singled. Gray nearly escaped the inning unscathed, but Nolan Glubke and Ty Racca delivered run-scoring singles to cut Bowie's lead to 7-4.
With closer Noah Walker ready in the Bowie bullpen, Gray fanned Chris Roller to open the seventh but walked Tanner Looney, giving Lake Travis a little hope and bringing a visit from coach Sam Degelia. Gray pleaded to face one more batter, a wish Degelia granted. Gray responded by fanning Brad Demco on three pitches and getting Wyeth to ground out to end the game.
"He's a competitor," Lake Travis coach Mike Rogers said of Gray. "He wanted to finish the game and he found that second gear when we were trying to get the momentum."
Gray finished with 11 strikeouts – including Lake Travis' top hitters Roller and Demco three times each – while scattering seven hits.
While Gray kept Lake Travis at bay, the Bulldogs had no such problems with Cavalier lefty A.J. Wolin. Wolin entered the game with a 4-0 mark in five starts and a 0.00 ERA. Wolin never got comfortable and his night ended after just four batters, all of whom reached base.
Thomas Varner led off with a single and took third when Wyeth threw wildly to first on Tanner Englehart's sacrifice bunt. Slugging catcher Joe Davis walked intentionally and Gray, batting cleanup, singled to left to give Bowie a 1-0 lead.
"I don't know if it was the environment or what, but he had some control problems and we felt like we needed to make a quick change," Rogers said. "The error on the bunt didn't help him out, but we were in a spot where we didn't think we could afford to give up a lot of runs with Gray on the mound."
Rogers called upon righty Tate Gillespie, who got a quick out but allowed a two-run double to Coleman Kvapil for the inning's big blow and a 3-0 Bowie lead.
"Gillespie is a ground ball pitcher and we were going for that [to get out of the inning]," Rogers said. "We needed to put a stop to it and we almost got out of it allowing just one run."
Gillespie appeared to settle in after getting two quick outs and two quick strikes on Davis in the Bowie second. He tried to waste the 0-2 pitch to Davis but didn't quite waste it enough. Last year's CenTex Player of the Year hammered the eye-high fastball off the Dell Diamond's Home Run Porch beyond the left field berm for a 4-0 lead and barked at the Cavalier dugout on his way around first base.
The Cavaliers scratched out single runs in the fourth and fifth innings but Bowie responded each time, taking advantage of some shaky infield play in the fifth for a key insurance run. Kvapil reached to open the inning when Asher Cook slipped while fielding his slow bouncer. After Gillespie fanned Julian Adams, Dusty Torres singled to put runners on the corners. He got Kevin Waterworth to hit a bouncer to Demco at first, who tried to start a 3-6-3 double play that would have gotten the Cavaliers out of the inning, but Triolo dropped the ball trying to make the throw and Kvapil scored Bowie's final run.
"That's baseball," Rogers said of his team's fielding struggles. The Cavaliers made two errors but lived with several other errant throws that cost them outs throughout the night. "We've played very good defense all year but we had a couple of plays where we're just a couple of inches off."
He's confident his young team – playing a handful of first year varsity starters – will bounce back. The Cavaliers will have to rely on the pitching staff, Rogers said, while the young batters figure out how to approach things one pitch at a time.
"That's part of where we're at right now," he said. "The young guys are trying to learn it, trying to focus on one play at a time rather than one that's coming up. We'll get better at it. It all starts on the mound. We need those guys to put some zeros up while we figure it out offensively."