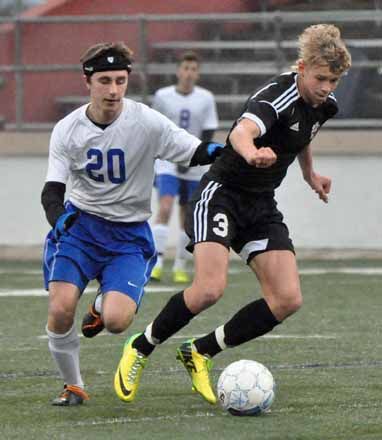 Perkins' hat trick beats winter weather, Anderson
Vance Perkins' hat trick rescued Lake Travis' unbeaten district season Wednesday night against Anderson.
Perkins broke a 2-2 tie when he beat Trojans goalie Chris McLean with 16:57 remaining, putting the Cavaliers (14-1-1 overall, 11-0-1 in district play) back on top after Anderson scored late in the first half and again early in the second to erase a quick Lake Travis start.
The 3-2 win extends the Cavaliers' unbeaten streak to 12 games.
Back on top, Lake Travis' coasted home, limiting the Trojans to just one shot on goal in the final 15 minutes, and keeper Chris Daves easily smothered a long distance shot. Led by midfielders Marcelo Mitre and Parker Fyfe, the Cavaliers kept the Trojans on the defense, though they couldn't add an insurance goal. Perkins had a chance for a fourth goal, but McLean turned away a point-blank shot and Kyle Marcotte couldn't stay onside to increase the lead.
The Cavaliers got off on the front foot, scoring twice in the first 15 minutes and watching two more chances go by the wayside. Patrolling the right side of Anderson's defense, Perkins scored twice off nice crosses, first from Marcotte and then from Fyfe.
Perkins' second goal came after Anderson's best early chance. After a Lake Travis foul, Andrew Wicks set a long free kick on goal, forcing Daves to punch it away over the crossbar. A minute later, Perkins put the Cavaliers up 2-0. Perkins was ruled offsides while scoring early on and later sent a shot wide of the net after beating the defense.
After watching Lake Travis control play for 35 minutes, Anderson got on the board late in the half when Marcus Collins slotted a header past a diving Daves. Ryan Smith tied things just 30 seconds into the second half when he took advantage of a Lake Travis miscue and sent a low shot past a diving Daves.
The Cavaliers avoided further trouble when the Trojans sent a shot over the bar following a scrum in which Daves came off his line to try and punch a cross away in a crowd but missed and struggled to return to his line.
Neither team could create much of a scoring chance until Perkins found himself free in the area with the ball and scored the winner.