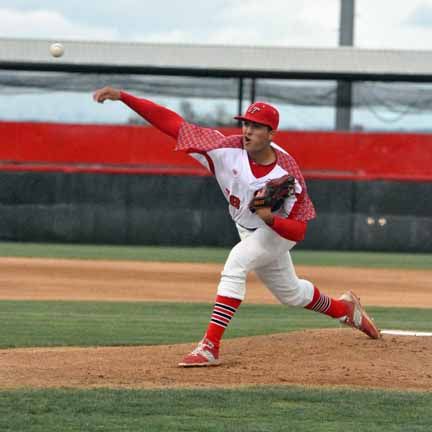 Pitching, defense will key Lake Travis' playoff fortunes
One goal accomplished, another big one on the horizon.
Lake Travis followed its dramatic win over Bowie last Tuesday with a workmanlike 4-1 win over Akins Friday to claim the District 14-6A title, the team's fourth consecutive district crown dating back to 2012.
Chris Roller keyed the win with a first-inning home run, and Akins avoided the shutout by scoring in the seventh against Colton Bailey, who had come on to pitch in relief of both A.J. Wolin and Tate Gillespie.
"It was very exciting of course," coach Mike Rogers said Tuesday. "Our goals are always to win district and reach the playoffs, and to be accomplish that first goal is great. Now we're looking forward to moving on."
The Cavaliers (18-5-1) move on with a best-of-three bi-district series against Stony Point. The Tigers (13-11-2) finished fourth in District 13-6A but will present an interesting challenge for the Cavaliers.
"They are an aggressive team that likes to put pressure on you, and they're good at that," Rogers said. "They aren't a power pitching team and they don't have a big power hitter. They like to get two or three runs on you and then try and hold you with their pitching."
Catcher Ivan Vera leads the Tigers. He ranks among the area's top hitters with a .474 average, 37 hits and 20 RBI on the season, and could also figure on the mound. Nic Garza's also been a productive Tiger at the plate, and Derrick Johnson anchors the pitching staff with his 1.64 ERA.
A dramatic comeback against Rouse vaulted Stony Point from the outside-looking-in to the final playoff position, extending a streak that dates back to 2008. The Tigers trailed Rouse 6-1 in the seventh before rallying for five runs to tie the game and eventually winning in extra innings. Jake McRoberts delivered the big blow, a bases-loaded double after Vera drew an intentional walk.
The Cavaliers enter the playoffs with some momentum, having won six of their last seven games. Still, Rogers said, the Cavaliers have yet to peak.
"We still feel like our best baseball is ahead of us," he said. "The weather has been crazy for everyone, but now we feel like we're getting into a rhythm with pitching, defense and timely hitting. And this is the playoffs. The natural excitement of that is contagious."
In its last seven games, Lake Travis has allowed more than one run just twice – four runs in a 4-0 loss to Austin High and two runs in a 7-2 in over Anderson. That speaks to the pitching and defense, staples by which Rogers builds his teams.
"In the playoffs, you'll always be facing a No. 1 starter," Rogers said. "I feel like we have three No. 1 starters, so I think we match up with everybody."
Lake Travis' playoff rotation will consist of Jackson Parthasarathy, Wolin and Tate Sandford. That leaves quality arms Gillespie, Nolan Glubke and Bailey on call. None of the six has pitched more than 35 innings thus far, totals that rank them well below aces of other staffs. "Overwork" clearly doesn't reside in either Rogers or pitching coach Dennis Cook's vocabulary.
Lake Travis has asked a pitcher to throw more than five innings in a single game just seven times, though six of the Cavaliers' 24 regular season games ended in five innings due to the 10-run rule. Only Parthasarathy (8 innings vs. Bowie) and Sandford (7 innings vs. Fossil Ridge) have logged more than five innings in any one game.
"If you look across the board, you see other teams with kids who've thrown 70 innings," Rogers said. "Our kids are in the 30s. That's the advantage of having outstanding depth. We never had to overwork anyone, and our kids are fresh and ready to go. At this point in the season, a kid who throws 90 [miles per hour] is down to 85 or 86 [due to fatigue]. Our kids are still at max velocity."
Wolin has been Lake Travis' busiest starter, appearing 12 times with nine starts yet logging only 34 innings. He's 6-2 with a 1.22 ERA and 50 strikeouts in those 34 innings. Rice-bound Parthasarathy, the projected ace of the staff, has pitched just six times (three starts) with a 4-1 record and a 1.42 ERA in 24 innings. Sandford's posted a 5-1 record with a 0.47 ERA in six starts that cover 30 innings. In relief, Bailey has pitched in 12 games, logging 16 innings with 21 strikeouts. He hasn't allowed a hit since April 11. Glubke (0.47 ERA in 15 innings) and Gillespie (1.65 ERA in 17 innings) are just as fresh.
Offensively, the Cavaliers haven't set the world ablaze since scoring 19 runs at Del Valle on April 14 and 10 against Lehman on April 17. In their last five games, the Cavaliers have scored but 13 runs. That doesn't worry Rogers. Winning close games has been good playoff preparation.
"That's the way the playoffs are going to be," he said after the win over Bowie. "We're built around pitching and defense. We try to keep putting pressure on the other team on offense until we get something to break. It's been a good formula for us going into the playoffs."
The best-of-three Bi-District series begins Friday night at Lake Travis. Games two and three (if necessary) will be played Saturday at Stony Point.