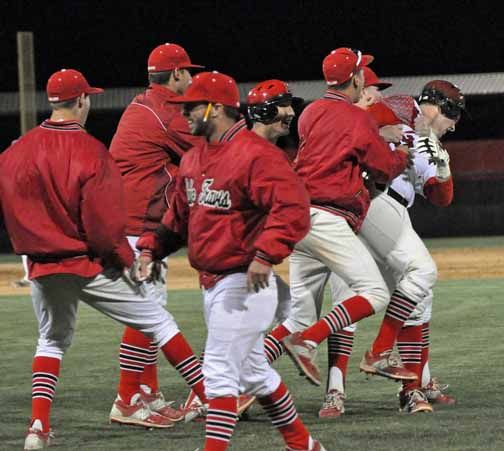 Wyeth's walkoff single a winner against Bowie
Jacob Wyeth's single to left scored Jared Triolo, giving Lake Travis a 2-1 walk-off win over Bowie Tuesday night.
The win pushed the Cavaliers (17-5-1, 12-3) to the brink of the District 14-6A championship. Behind Jackson Parthasarathy, Lake Travis took a 1-0 lead into the top of the seventh only to see Bowie (15-4, 11-4) tie it on one swing of catcher Joe Davis' bat.
"I got him out the [at bat] before on a slider away and he said 'throw me that again,'" Parthasarathy said afterwards. "I did, unfortunately."
Davis connected with the slider and drove it over the fence in right-center field.
"I wanted to go after him and it came back and bit us," Parthasarathy said.
The homer proved the only blemish on the Rice-bound senior's night. Parthasarathy took a perfect game into the fifth inning – losing it when Travis Folmar's line drive got over Austin Hiller's head in right field. All told, he allowed just three hits in eight innings, striking out four. After Davis' homer, Parthasarathy retired the last five Bulldogs in order.
"He was brilliant and we kept talking for the last month that the big guy has got to step up," Lake Travis coach Mike Rogers said. "We challenged him and he did big time. It was a pitch you want back but it shouldn't take away from what he did. He was outstanding."
"I felt good in the bullpen," Parthasarathy said. "I knew if I hit my spots and executed that we had a shot to win."
In the eighth, his teammates proved him right. Triolo worked a one-out walk from Bowie's Kyle Gray, who'd beaten Lake Travis in the team's first meeting. After Triolo stole second, Chris Roller struck out and Bowie elected to intentionally walk Brad Demco, who had two of Lake Travis' four hits.
Wyeth lined the first pitch he saw into the gap in left-center field, scoring Triolo with the winning run. Wyeth had come up empty in two earlier at bats with runners in scoring position.
"I really wanted to be up there," Wyeth said. "I was struggling all night, but I came up there with confidence and knew I was going to hit the ball."
Rogers credited his sophomore catcher for battling through the rough night.
"He'd had a couple of tough at bats earlier and he kept turning the page, which is what we preach to them," the coach said. "He had a big [at bat] and it was a big win for us."
Gray matched Parthasarathy frame for frame after allowing a first inning run. He allowed just four hits, and only Wyeth's winning single after the third inning. Gray struck out 13 while hitting two batters and walking four others.
Lake Travis can claim the district championship outright Friday with a win against Akins. Rogers hopes his team will continue to build on the excitement of Tuesday's win.
"We're finally starting to tap into some energy and some emotion, and we're really coming together at the right time," he said. "Akins will be coming in. It will be senior night. I look for us to be really excited to play, build on that and claim another district championship this year."